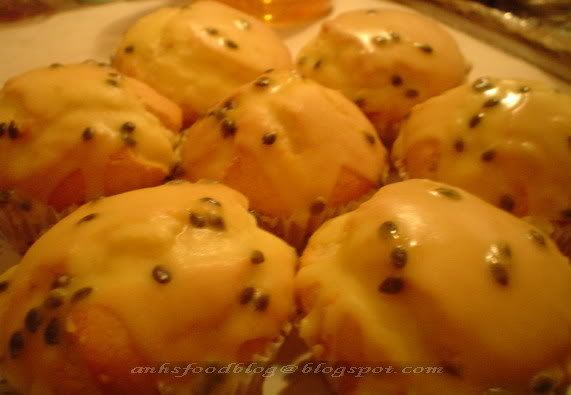 Theres no passion, I need passion
You need passion, we need passion
Cant live without passion
Wont live without passion
The above lyrics are Rod Stewart. Is his music too old for me? Perhaps ;). Anyway, I remember the song above was played a lot on TV when I was young. The music was ok, but it did get to the point when I wanted to turn the TV off each time I saw Rod Stewart. Don´t get me wrong, I love some of his music, but listening is better than watching him on TV….
Enough said for music (which is my other hobby), let´s now turn to food, which is the main theme of this blog. Yes, I want to talk about PASSION…FRUIT! I came to know passionfruit when coming to Melbourne since it is not available in the humid tropical area when I come from. But the first encounter was not the fruit itself but in a cheesecake, which was lovely – the tangy flavour matches really well with the creamy texture of the cheese. Not to mention those little decorative black seed. And the name- passion… How nice? 😛
The fresh passionfruit we have in Mel is the tiny dark rough skin type. But watch! Inside the wrinkled skin is the mushy yellow flesh with numerous tiny black seeds. Have a try, and for a moment you will be struggled at the tartness. I won´t mind having some fresh since I love sour stuff. But it is at its best in cakes and creamy desserts!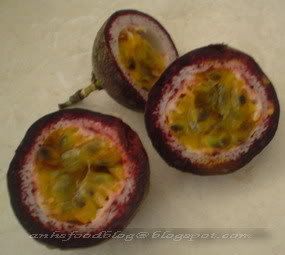 Having bought some passionfruits from the market last week, I decided to bake some cupcakes, and the results are great. The acid in the fresh juice helps the cake to be very fluffy, soft and light (almost like when you bake buttermilk cake). But it is the icing that makes the cakes stand out – the sourness cuts back sweetness of the sugar. And you just want to eat more and more….
It is said that after eating passionfruit, you will fall in love with the next person you meet! (Anyone looking for love? Heheheheh). True or not? You decide. For me, I just can´t get enough of PASSION! 😛
PASSIONFRUIT CUPCAKES
Recipe was taken from AUSTRALIAN TABLE (October 2006 issue). It calls for fresh passionfruits but I guess the ones in syrup will do too. Nevertheless, do try the fresh ones if you can get a hold of them. One point to remember is not to over-whip your egg white. The cake batter is stiff, so over-beating will make it hard to fold in.
Ingredients for about 6-7 ½ cup muffin size cakes
4 passionfruits, halved
125 gram unsalted butter, at room temperature
½ cup (110 gram) of castor sugar
1 tsp of vanilla extract
2 eggs, separated
11/2 cups (225 gram) of self-rising flour
1 tbsp of cornflour
½ cup (60 ml) milk
Method
Preheat oven to 180 deg C. Grease and line muffin pans with paper cup
Sieve passionfruit pulp to make ¼ cup juice. Discard seeds.
Cream sugar, butter a nd vanilla till light and fluffy. Add egg yolks, beating well. Fold in sifted flour corn flour and ¼ tsp of salt alternately with milk, beginning and ending with flour. Stir in passionfruit juice.
Whisk eggwhites until soft peaks form. Fold into the mixture. Spoon mixture into prepared pan until each hold is 2/3 full.
Bake for 20 mins or until skewer comes out clean.
Cool on a wire rack.
Passionfruit Icing
Ingredients
11/2 cup (220 gram) of icing
sugar, sifted
15 gram unsalted butter, at room temperature
1-2 tbsp of passionfruit pulp, with seeds
Method
Place sugar in a bowl, and make a well in the centre. Add butter and pulp and stir to make a paste. Place bowl over a pan of simmering water. Stir until butter melts and the icing is warm (I like my icing thin, so I added a bit of hot water). Spoon the icing over cool cupcakes, and allow to set before serving.
TIPS on choosing good fresh passionfruits: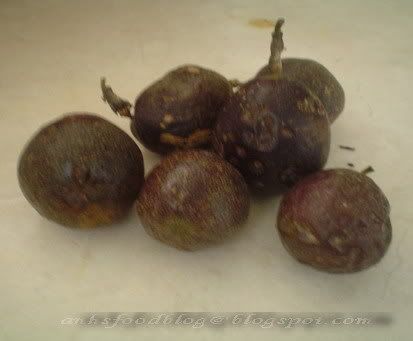 Choose ones with smooth skin, and it´s heavy for its size. Store at room temp for 1 week or in the fridge for 2 weeks. Note that passionfruit seeds are edible. And the fruits are good source of fibre, vitamin C and potassium.