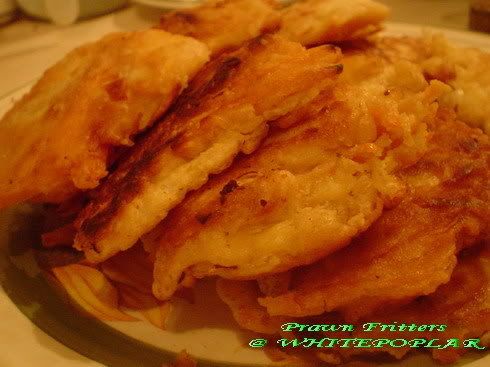 This is for Edith and Ida,

Come across this great Hay Hay it´s Donna Day #6 F is for Fritter. Since my recipe is based on her Basic Corn Fritters, I decide to join this great event with my version – Prawn Fritters! Please check out Milk and Cookies Blog for the round up after 15th Oct 2006!
Fritters are common snacks in Vietnam. The most popular type is banana fritters. Unlike a lot of versions I have seen from cookbooks, the banana in the Vietnamese fritters are thinly sliced, then coated with light batters and shredded sweet potatoes. They, then, are deep fried. These make wonderful snacks especially in winter. I remembered one street stall selling these fritters near my secondary school (located on Ham Long Street, Hanoi). Theirs perhaps are the best banana fritters I have ever tried!
Another famous fritters are savory one, made from medium prawn with shell and tail intact. This practice gives the fritters the crunchiness, yet, the prawn meat is still juicy and sweet. In Hanoi, there is one restaurant near West Lake which is famous for this dish. They have been there for years despite the growing number of good restaurants and café nearby.
I have been craving for these fritters for sometimes, but never have the time to make them. Until recently, when I read a whole section of Donna Hay Magazine (Sep/Oct 2006 issue) on how to make fritters. So I decided to have a go. But I won´t go for the banana ones as yet, since the price of banana in Melbourne is still too expensive. Thus, of course the choice is to modify the basic recipe in the magazine for my favourite prawn fritters. To my surprise, the texture is quite close to what I used to have. One improvement, I think, is I can shallow-fry instead of deep-fry these fritters. This makes the dish healthier I suppose.
Here is my version of the prawn fritters. Please note that the Vietnamese likes to serve these cuties with nuoc cham (a dipping sauce). I don´t have an exact recipe for this, but you can try the recipe provided by TT´s Playing with My Food. Remember, however, that the dipping sauce for prawn fritters don´t normally have lime in it. So I suggest you use white vinegar all through.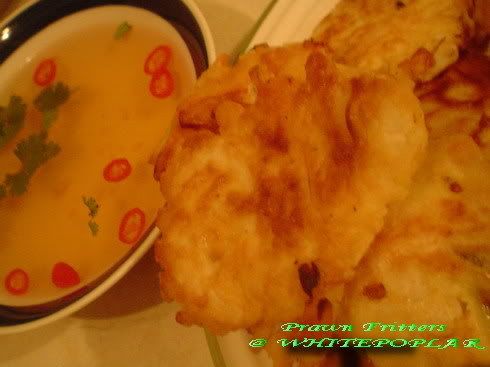 Recipe adapted from Basic Corn Fritters, appeared in Donna Hay Magazine Issue 29 (Sept/Oct 2006).
Ingredients
1 cup of self-rising flour, sifted
2 eggs
20 gram of corn oil
1/3 cup of water
Sea salt and white pepper, to taste
1 teaspoon of ground turmeric
150-200 grams of small/medium prawns (shrimps), leaving tail and shell on if preferred.
1 small sweet potatoes, peeled, cut into thin strips (optional)
Oil for swallow frying
Nuoc cham, to serve
Method
Place the flour, eggs, oil, water, salt, pepper and turmeric in a large bowl, whisk to combine
Fold through the prawns and sweet potatoes.
Heat oil in a non-stick pan. Gradually shallow fry the prawn fritters until golden brown on both sides. I suggest using 2 tbs of mixture for each fritters.
Serve hot with nuoc cham and some lettuce leaves, coriander etc. if preferred.