I must admit my love for noodle of all kinds has no bound. Beside my obvious bias preference for rice noodle, I willingly try and savor any other types of noodles, which of course include pasta… Thus, seeing Meeta of What´s for lunch honey´s post on Chinese Vegetable Noodle, I couldn´t resist but decided to make some for lunch!
The noodle dish I chose to make is Mee Goreng – an Asian classic. I had the chance to try some in Singapore several years ago, and absolutely love its flavorsome sweetness and spiciness. This dish has many variations created by hawkers across Malaysia, Indonesia and Singapore. The version I cooked up has tomatoes, potatoes, prawns, chicken and dozens of other goodies. Don´t be scared by the list of ingredients – they all can be easily found at Asian shops. I notice that larger supermarkets here in Melbourne have started to sell more Asian products as well.
Note that I used Chinese thin noodle. For a more authentic version, use the thicker Hokkien Noodle.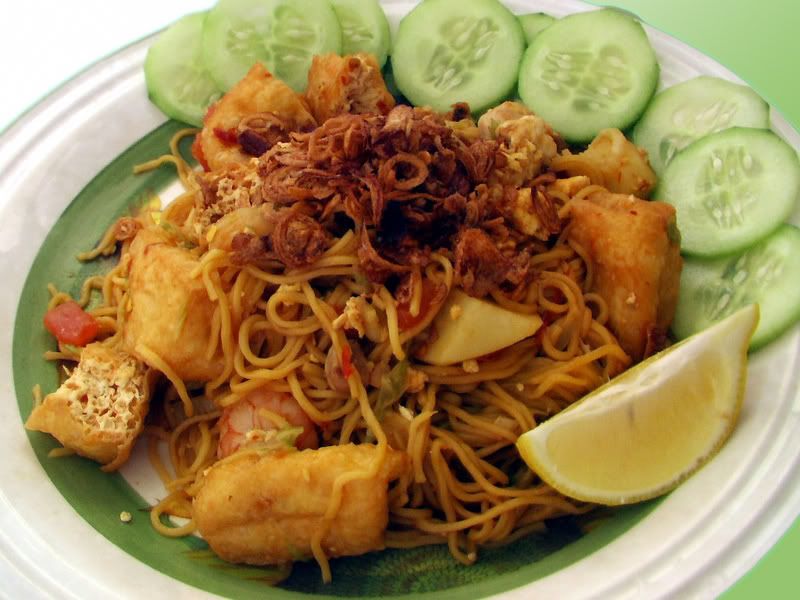 MEE GORENG
Recipe adapted from "Savoring Southeast Asia"
Ingredients
300g Hokkien Noodle or Chinese Egg Noodle
3 tbsp og vegetable oil, or as required
1/2 tsp salt
3 cloves garlic, chopped
60g bonless, skinless chicken breast or thigh, cut into 6mm pieces
2 eggs
125g large shrimps, peeled and deveined
1 cuo (90g) shredded cabbage
3 pieces of deep-fried tofu, each about 4cm square. Cut into 6mm thick. (Available from Asian shops)
1 tablespoon sambal ulek
2 tablespoons tomato sauce (ketchup)
1 tablespoon sweet soya sauce (kecap manis), or to taste
1 tablespoon lightt soya sauce , or to taste
1 potato, boiled or microwaved, peeled, cooled, and cut into 12-mm cubes
125 g bean sprouts (I omited this)
1 firm tomatoes, cut into 12-mm cubes
2 spring onions, cut into 2.5cm length
1 cumcumber, peeled and thinly sliced
fried shallot (available readily fried at Asian shops)
2 lemons, cut into wedges
Directions
1. Prepare noodle according to package directions, keep warm.
2. Place wok over medium high heat. When the pan is hot, add oil, salt and garlic. Stir-fry for about 1 min, or until fragrant.
3. Add the chicken to the wok, stir-fry until the chicken pieces are firm. about 2 mins.
4. Crack the eggs into the wok. Use the head of the spatula to gently break up the yolk. Do NOT beat! Let the egg fry until set, about 1 min. Then, add the shrimp, stir-fry until the shrimp turned orange-pink, about 2 mins.
5. Raise the heat to high, add cabbage, fried tofu, noodles. Toss gently to mix. Add sambal olek, ketchup & the two soy sauces. Mix to coat evenly. Add tomatoes, potatoes, bean sprouts & spring onions. Stir-fry to mix. Adjust seasoning with sweet and light soy sauce. Transfer the noodle to a platter.
6. Garnish with the cumcuber, fried shallots and lemon wedges. Serve immediately.