Although I have a little time on hand at the moment, I cannot miss the wonderful event hosted by Creampuffs in Venice and Viaggi e Sapori: A dish of comfort from your childhood memory.
I must say it is not easy to choose one favourite childhood dish. Facing with many choices but I gradually come down to choose one special dish that never failed to warm me up on cold winter days in Hanoi: Beef in Red Wine Sauce (Bò sốt vang).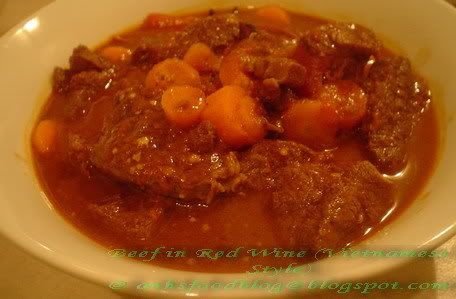 The dish undoubtedly comes from France. During the colonization time (late 19th & early 20th century), the French did bring a lot of western influences to Vietnamese cultures, languages and of course cuisine. Talking about food alone, baguettes, pâté, yoghurt and caramel custard have become parts of everyday-life dishes. Of course, these French dishes have been adapted to suit the local tastes and ingredients. The featured dish, Beef in Red Wine Sauce reflects the above facts. The adapted version still has red wine base but the seasoning and spices have changed considerably. The local version contains fish sauce (!) and spices like cinnamon, star anises, black cardamom and sometimes lemongrass. The end result is something strange yet familiar – a western dish with eastern flavours.
I used to eat this dish all the time. When I was little, my lovely mother normally took me for the noodle shop which sold the best Beef in Red Wine Sauce over Rice Noodle Soup (Phở sốt vang). How much I loved eating these tender and fragrant meat pieces with the smooth noodle and hot broth. It was especially delicious in winter morning when everything was cold and grey. The beef dish was also normally served with freshly baked baguettes. My dad and I loved to have this for supper after watching live soccer at the stadium (My family is crazy over soccer!). Eating bread with the rich red sauce certainly helped us to recover from exhaustion which was the result of the over-shouting and crazy jumping done previously ;-).
Enough said for a childhood favourite. I have included here the recipe that I use to make the dish. I learn this from a friend's mom. Her mother, a Hanoian, is particularly good at cooking Vietnamese traditional dishes. I have made this with stewing lamb, and the result was equally good.
Vietnamese Beef in Red Wine Sauce
Ingredients (for 4 serves)
700 gram beef briskets (or other stewing parts), cut into chunks
2 tablespoons of fish sauce
¼ tsp of ground white pepper
3 cloves garlic, minced
1-2 teaspoons of Chinese five-spice powder
3 tablespoons of oil
2 tablespoons of Annatto seeds
1 cinnamon stick
2 pieces of star anise
2 big red tomatoes, quartered and seed removed
2 medium carrots cut into pieces
Around 250 ml of red wine
Water or beef stock (optional)
Extra salt and white pepper to taste
Extra Sugar to taste (optional)
Method
To make the annatto flavoured oil: Heat the oil in a wok, stir-fry the

annatto

seeds
quickly till the oil turns to red color. Remove from heat, strains and discard seeds.
Marinade the beef with half of the oil, fish sauce, five-spice powder, garlic and white pepper for at least 1 hour.

Heat the remaining oil in a heavy bottom pan, add the beat and stir fry until browned all over and the water in the pan slightly reduced.

Add red wine. Simmer over low heat, uncovered for around 10-15 mins. Add black cardamom, cinnamon, star anise and tomatoes. Braise, uncovered until the beef is tendered, around 45 mins – 1 hours (You can use the pressure cooker for this –cooking time will vary). Add little water if the level of water in the pan is too low. Add carrots in the last 10 mins of cooking, simmer until cooked.

Remove from the heat. Discard all the spices. Serve hot with plain rice or freshly baked bread.
Tag: Dishes of Comfort, recipes, Vietnamese Food