Freedom, O freedom
That's what we fight for
And yes, my dear sisters
We must learn to fight
Freedom, O freedom
That's what we ask for
That's what we live for now
(Sister, O Sister- John Lennon)

This song was in my head when I "freely" dropped spoons of cookies batter onto the baking tray. Enjoying too much "freedom", my cookies turned out to be HUGE and VARIOUS in sizes! But hey, they were absolutely delicious – soft bite with a crunchy wrap. And most of all, they are chocolaty. And who would want to refuse a dose of chocolate? Well, not me! 😛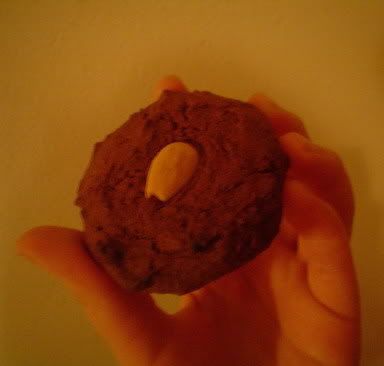 Anyway, I made these giant cookies right after dinner on Monday. Not having a lot of time on hand, I chose one of the easiest cookies from 500 cookies to bake. The recipe titled " Cream cheese and Chocolate Double Deckers". You should wonder by now where all the cream cheese fillings has gone. I didn´t have any since it is not my cup of tea. I am one of a few people who leave out the icing filling in orio cookies :P. Actually why don´t they make Orio Cookies just by itself and without the cream???? I would love to grab some of those!
I have included here the recipe for Cream cheese and Chocolate Double Deckers, including the cream cheese icing for those who are keen to try. I have to say the cookies turned out very well. They are not overly sweet and the texture is just soft enough for a good bite. Perfect with a cup of hot chocolate!
Cream cheese and Chocolate Double Deckers

Recipe from 500 cookies
Ingredients (for 2 dozens – if you do it the proper way! *wink*)
150g plain flour
1/3 tsp baking soda
225 gr cream cheese
50g unsalted butter
150g castor sugar
1 egg
100g dark chocolate, melted
125g icing sugar
Directions
Preheat oven to 175C.
Sift the flour and baking powder, set aside
Beat half of the cream cheese and butter until smooth. Add castor sugar and egg and beat until light and fluffy.
Stir in chocolate and the flour mixture. Mix until smooth
Drop spoonfuls of mixture to baking tray. Bake for 10-12 mins or until firm at the edge. Cool on a wire rack.
The filling: Beat the remaining cream cheese and icing sugar till smooth. Use this to sandwich the two cookie bases together.
Store in an air-tight container in the fridge for up to 3 days.