>> Saturday, November 11, 2006
Retro recipe challenge is a blogging event I really enjoy. This is where people cook up old recipes from 1920-1980. You can see old and almost forgotten dishes coming alive again! And for a young gal like me (:P), it is fun to see what the older generations have to offer… Whatever they have, it is definitely better than the fast food culture that we are living in.
This month theme of Retro is Fall Favourite. I must say it is kinda hard to come up with a recipe for autumn when spring is in the air in Melbourne…. But while we still have some cold nights here, I think I can manage to whip up something suitable for an autumn dinner as well ;D. The dish I choose for my first ever entry for RRC is a Russian heritage – Beef Stroganoff.
Russia is definitely where this dish comes from since cooking beef in sour cream is something the Russians have a long history for. But how this dish has its name is of question. Some say it is named after a Russian diplomat called Count Pavel Stroganoff from the 19th century. But some says the name may be derived from the Russian verb "Strogat" which means "cutting into pieces". The first published recipe for this dish is in an 1861 cookbook (translated by Joyce Toomre), where all the mushrooms and onions are left out. The surviving popular version that we have today, which includes onions and mushrooms, is said to be attributable to the 1912 cookbook Practical Fundamentals of Culinary Art: a Handbook for Culinary Schools and Self-instruction by Aleksandrova-Ignat'eva. In this 1912 version, the beef is served with potato straws while the modern accompaniment is fettuccine.
Enough for the long history of this very simple dish, which was very popular back in the 50s. If you have a chance, do try it. Do not be alert by the amount of butter and sour cream used – they are essential to the classic flavor! And I guess it should be ok to treat us once in a while with a full-flavour and truly creamy dish! I admit I had to resist myself not to over-eat. This dish is simply fabulous!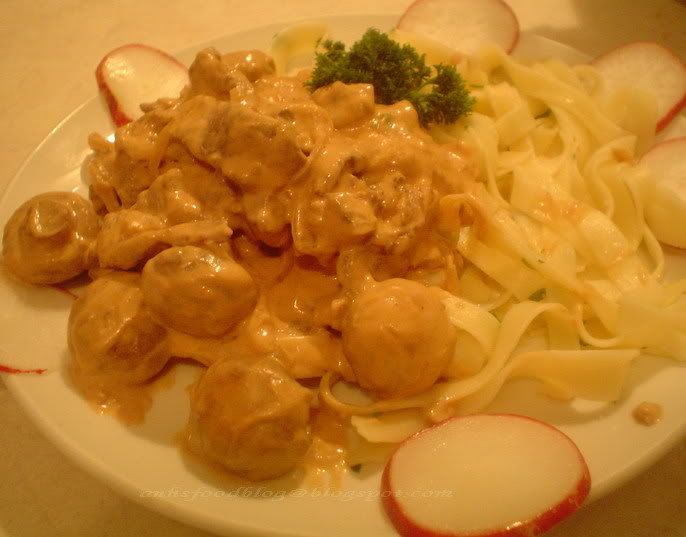 So what do you need?
The recipe and some of the information above are taken from The Australian Gourmet Traveller August 2006 (in the Classic Dish article). I used 400 gm small button mushrooms instead of the ones recommended.
Ingredients (serves 6)
1 kg tail end of beef fillet, trimmed and thinly sliced (I used rump steak)
35 gm (1/4 cup) plain flour, seasoned
120 gm butter, chopped
2 onions, thinly sliced
200 gm small chestnuts mushrooms, trimmed
150 gm small Portobello mushroom, trimmed
2 tbsp tomato paste
400 gm sour cream
300 gm fettuccine
¼ cup chopped flat-leaf parsley
Directions
Place beef in a bowl, sift over flour and toss to coat

Heat 30gm of butter in a large non-stick pan over medium heat, add onion and cook for 5 mins or until tender. Add mushrooms and cooked for 10 mins or until tender. Season with sea salt and freshly ground black pepper. Remove the onion mushroom mixture from the pan, keep warm.

In the same pan, heat 60gm of butter, then add the beef. Stir occasionally till brown over. Return the onion mushroom mixture to the pan, add tomato paste, sour cream and cook for 5 mins or until heated through.

Cook the fettuccine according to packet direction. Darin, add the remaining butter and chopped parsley. Serve immediately with the beef.
Bon Appétit!

Tag: rrc4