>> Thursday, November 23, 2006
This month Sugar High Friday theme, hosted by thepassionatecook, is Chocolate Truffle. You can go to her website and read her lovely post on why chocolate truffle is one of the most perfect gifts to mankind!!!
With all my love and devotion for chocolate (who doesn't love chocolate anyway?), I cannot miss this SHF event. So in the midst of my tests and work commitments, I found myself in the kitchen making some almond truffle biscuits in the 36 degree Celsius heat. Crazy you said? Yes, I know! This round chocolate making/dealing was the hardest one I ever experienced. My truffle just couldn't set at all because of the heat. Thanks God that the fridge was invented otherwise my beloved chocolate would be destined to the bin!
The recipe for my Almond Truffle Biscuits is from the latest edition of Donna Hay Magazine. I had something else in mind but couldn't resist making these cuties after seeing them in the magazine. They were extremely easy to make and absolutely yummy to savour! After a bite through the biscuit layer, the truffle filling would just melt in your mouth…. Heavenly! Oh, my heart was singing….

"Wise man says only fools rush in

But I can't help… falling in LOVE with you…."

"You" = my lovely truffle biscuits! ;-)

Below is the recipe. Make sure you have the best dark chocolate for the filling. Please don't make them in humid and hot days! If you can't resist, at least make sure that your fridge works wonderfully!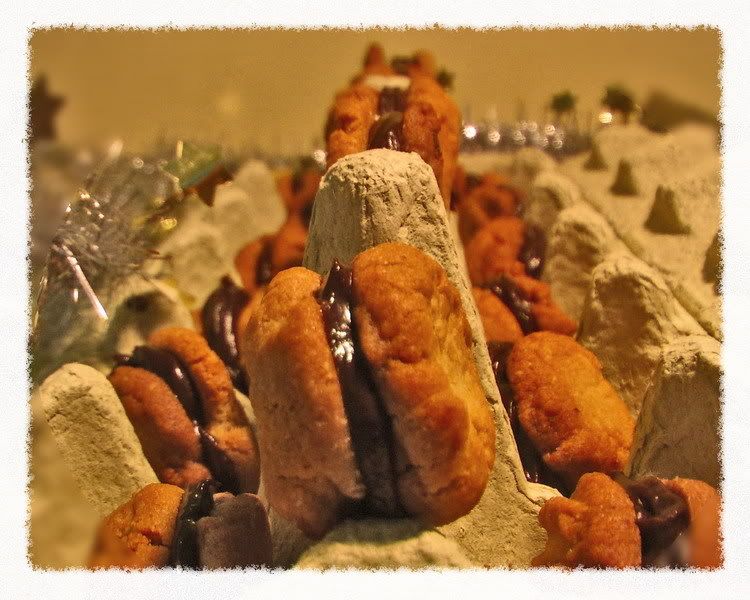 Almond Truffle Biscuits
Recipe taken from Donna Hay Magazine Dec/Jan 2007 issue
Truffle Filling
200g dark cooking chocolate
¼ cup single or pouring cream
20g unsalted butter
The Biscuits
55g unsalted butter, softened
½ cup brown sugar
½ tsp vanilla extract
½ tsp finely grated orange rind
1 egg yolk
½ cup (75g) plain flour, sifted
¼ cup almond meal
¼ tsp baking powder
Directions:
To make the truffle filling, place the chocolate, cream and butter in a small saucepan over low heat. Stir until the chocolate is completely melted and smooth. Set aside and allow to cool for at least 30 mins.

Preheat oven to 160C (320F). Place the butter, sugar, vanilla and orange rind in an electric mixers and beat for 8-10 mins or until creamy. Add eggs and beat well to combine.

Add the flour, almond meal, baking powder and beat for 1 min or until combined.

Spoon 20 x ½ tsp onto a baking tray lined with baking paper. Lightly flatten them with your hand. Bake for 8-10 mins or until golden (the biscuits become hard once cooled). Repeat with the remaining batter.

To assemble, place the chocolate filling into a piping bag fitted with a star nozzle and pipe a small amount onto half of the biscuits. (It is ok to taste some truffle if you cannot resist!). Sandwich with the remaining biscuits.
Make 33
Tag:
Sugar High Friday
SHF
Truffles
chocolate
Recipes