>> Monday, November 27, 2006

This is my first ever entry for Weekend Breakfast Blogging hosted by the lovely Nandita of Saffron Trail. The theme that she chose for this month of WBB is Baking for Breakfast. A wonderful theme, isn't it? I simply love bread, muffins, scones etc. for breakky… So, turning on the oven and getting some flour out, I started to bake this wonderful Tropical Slice.
I simply love this type of cake. It is packed with the goodness of fresh mangoes and passionfruits – something I absolutely adore. The sweetness is also just right and not too heavy, making the slice perfect for breakfast. And what more is that it is extremely to make. All we need to do is to throw all the ingredients to the food pressor, press the button and the batter is ready. No hard work, except for a little cleaning up later! ;-) But the result does worth it! :P
You see, I cannot help renaming the slice to Good Morning Sunshine. ;-) Dunno why but I do dream of the beautiful tropical sunrise when biting into the slice… A flash from the past I guess…. :">
Here is the recipe…. Read on and enjoy!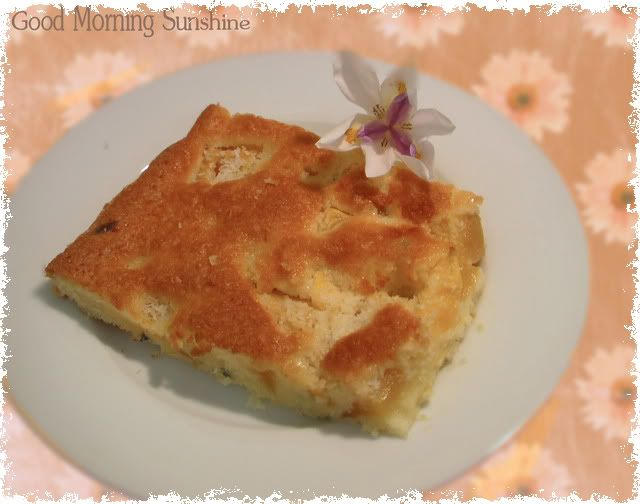 TROPICAL SLICE
Adapted from Delicious Magazine (Aus Version)
Ingredients
175g unsalted butter, softened
1 large mango
1 cup (150g) self-rising flour
75g desiccated coconut
175g castor sugar
Zest of 2 limes
3 eggs
1/4c (60ml) milk
Pulp of 2-3 passionfruit
Directions
Preheat oven to 180C. Grease and line the base of a 30x20cm lamington pan

Peel the mango, dice the flesh and set aside. Place the flour, 50g coconut, butter, sugar, lime zests, eggs and milk in the bowl of an electric mixer and beat for 5 mins.

Stir in the passionfruit pulp and spread mixture in the prepared pan. Top with mango and the remaining coconut. Bake for 40 mins or until cooked when tested.
Serve warm or cold.
Tags: Food blog event, baking, breakfast, WBB