>> Friday, November 03, 2006
Q: Name a fruit that are used as veggies!
A: Heaps! Tomatoes, chilies etc.
NEXT
Q: Name a veggie that is used as fruit
A: ehm… ehm… RHUBARB!
Rhubarb is such a strange vegetable. Firstly, it has stalks with dark redness colour as opposed to the familiar green veggies. Secondly, its leaves are poisonous so the only edible parts are the glamorous stalks. And, the strangest part? It is a vegetable that has the tartness of a fruit! There is another reason why rhubarb is a stranger to me. I never had it back in my hometown, which means rhubarb famous tartness is unknown to my taste collection. And what is the motto of someone who loves veggies and fruits? You gotta taste all of the edible plants, or at least as many as possible. So when I saw the fresh rhubarb on sale at Victoria Market, I decided to grab some to taste and turn it into erh… something edible.
Getting home. I first took the leaves away, then cleaned the stalks. Now, using a sharp knife, I sliced a small piece of the red veggie, and had a bite. Man, it was sour. The flavour was strange but at the same time familiar. Just imagine the taste of an unripe sour apple or back to my childhood, the taste of the green start fruit!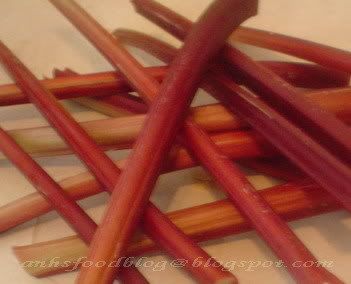 Now, the tasting session was over. Time to whip up some rhubarb pies. I had initially decided on the Rhubarb and Apple Pie by Bill Granger and got all the necessary ingredients. But as I was measuring out the portion of butter, my digital scale number went blank. Yeap. Out of battery! How technology could turn us down sometimes, especially when you had kicked the normal scale out of your kitchen. Of course I could go and try to convert it, but I really didn't bother. It was late afternoon and I still had to prepare dinner. Lucky me, I did document some rhubarb recipes earlier. So digging through the mess, one particular recipe caught my eyes - Rhubarb Strudel Crumbles by Kate Mcghie from the Herald Sun in 2003. I got all the necessary ingredients, and most importantly, the recipe was written in the old Cup & Spoon measurements!


To cut it short, I baked the cake, and guess what it was marvelous. The tartness of the rhubarb and the richness of the cake contrasted yet at the same time combined with each other, giving us an abnormal delicious taste. And more, the messy looking crumbles provided a chewy and crunchy bite to the moist, tender cake. What else could you ask? This is exactly the type of cake that I love - fruity, rich and crunchy in a complete package... Guess rhubarb did do its wonders on me. And it is definetely a keeper ingredient!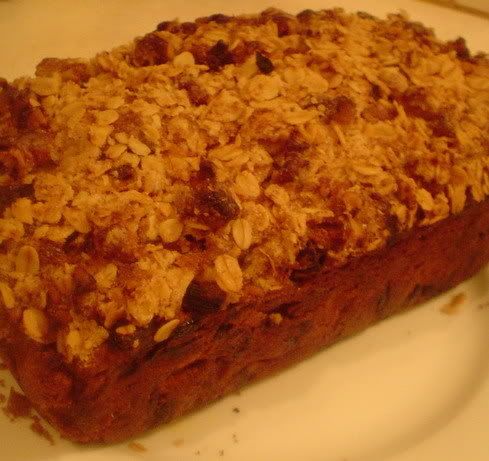 RHUBARB STRUESEL LOAF


Recipe by Kate McGhie, appeared in the Herald Sun City Style May 13 2003



Ingredients:
2 cups chopped rhubarb

1 & 1/4 cup caster sugar
Juice of 1 orange

1 3/4 cup plain flour

1/4 tsp salt
1 tsp baking powder

250gr unsalted butter, softened

3 large eggs
1 1/2 tsp vanilla extract
2 tbs brown sugar
1/4 cup oats

1/4 cup crushed Butternut Snap Biscuits (I used chopped walnut)

1 tbs soften unsalted butter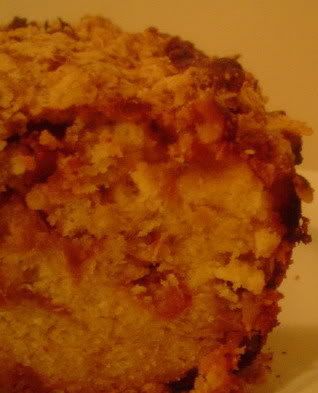 Directions:

1. Place rhubarb, 1/4 cup of sugar and orange juice in a pan. Cover and cook gently till the rhubarb is soft but not mushy. Cool.

2. Preheat oven to 180C. Line a 10x25cm loaf pan. Sift together flour, salt and baking powder.

3. Beat butter and the remaining sugar till light and fluffy. Whisk egg and vanilla together and add to the butter little at time until all is incoporated.
4. Fold in flour mixture then rhubarb. Place in loaf pan.

5. In a bowl, combine brown sugar, oats, biscuit crums (or chopped walnut) and butter. Rub with fingers until all combined. Sprinkle over the cake mixture and bake for 1-1 1/4 hours or till tested.
Cool on tack before turning out.
NOTE from me: I think the same amount of peeled sliced granny smith apple will do the same effects for the cake!
This entry is for Weekend Herb Blogging, hosted by
Kalyn
.
For more information about Rhubarb, read
my post
on it.
Tagged with:
Weekend Herb Blogging
&
WHB