>> Thursday, November 09, 2006
This week WHB is hosted by Meeta of What's For Lunch Honey?, a beautiful and yummy blog.
The herb featured in my post this week is dill, one of my favourites. Dill has a simple, fresh and clean tastes which work well with seafood, cheese etc. It is also great to use to add a refreshing touch to simple salad and vegetable dishes…
Dill is perhaps one of the first herbs I knew. It is an essential ingredient for the popular Vietnamese fish soup that my family used to have almost every week. Thus, I became familiar with the fragile look and taste of dill even before knowing its name…
The meaning of the world "dill" in Vietnamese is somewhat interesting. The traditional folklore told us that once the Heaven God decided to give names to all plants on Earth. In the process, however, he accidentally left out one tiny plant. The plant, eager to have its own identity, came to question the Heaven God who at the time ran out of ideas. The unnamed plant could not wait but hurried the God to give it a name! Unable to answer straight away, the God kept on saying… "It is…", "It is…."…. The plant, thinking that "It is" was its name, overjoyed! It ran off quickly to tell everyone about this news!.... Yeap, you got it right! The name of dill in Vietnamese means "It is" (Thì là). Isn't it funny? :P
For today's recipe, I decided to cook one Vietnamese noodle dish – Rice Vermicelli with Prawns in broth (Bún tôm). This dish originates from Haiphong, a northern city which is not far from Hanoi. It is quite simple to make but make sure to use the freshest ingredients. This is the "soul" of Vietnamese cooking since the dishes are normally not heavily spiced but allows the natural tastes to come out.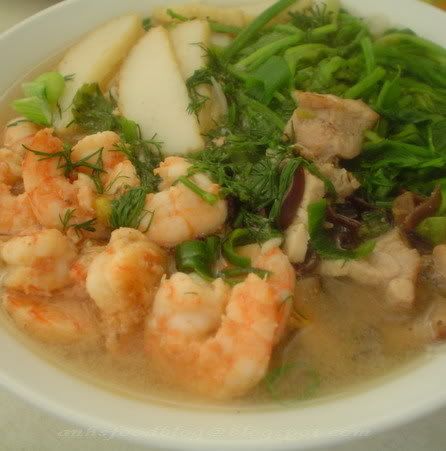 I love this dish. It is light and refreshing. Like most of Vietnamese dish, the natural flavours of ingredients come together very well. And dill provides a final touch to the noodle which helps to tone down the "fishy" flavour of the prawns.
Vietnamese Prawn Rice Vermicelli in Broth
For this dish, you need to find either Vietnamese water celery or kangkong (water spinach). Kangkong is easy to find in almost all Asian groceries while the water celery is normally found in Vietnamese shops. If both of these are unavailable, feel free to use green choy sum to substitute.
Ingredients (serves 3-4)
5 cups of chicken broth and extra 3-4 cups of water
500 gram of fresh medium prawns
1 long fish cake (I used the Thai frozen fish cake since the Vietnamese fish cakes are not readily available here in Australia), sliced
Oil for stir fry
A - for the meat:
150-200 grams of chicken or pork meat, cut into small bites
1/2 tablespoon of fish sauce
½ teaspoon of ground white pepper
2 Chinese dried mushrooms, soaked in hot water till soft
1 black fungus, soaked in hot water till soft
B (for the prawns):
Extra ½ tbp of fish sauce
Extra ½ tsp of ground white pepper
C (to garnish and finish up):
1 bunch of Vietnamese water celery (or kangkong or choy sum) – clean and cut into 3-4 cm length
200 gram of rice vermicelli, prepared as per packet direction
1 spring onion, the green leaves only, thinly sliced
Dill – around 2 tablespoons of freshly chopped leaves
Salt and sugar to taste
To serve: freshly cut lemon/lime wedges, Asian chilli sauce (sambal olek is good)
Method:
To marinade the chicken/pork: use ½ tbp of fish sauce and ½ tsp of white pepper. Add in sliced chinese mushrooms and thinly shredded black fungus. Set aside.

Clean the prawns. Remove the skin, head and black line. Keep the skin and heads for making stock. Set the prawn meat aside.

Using a mortal and pestle, briefly pound the prawn skin and heads. You can use a food processor for this.

Transfer the processed prawn mixtures to a large mixing bowl; add in 3-4 cups of water. Using your hand, quickly mix everything together then sieve. Discard all prawn skin and heads. Keep the prawn water for using in stocks.
In a frying pan, add little oil then quickly stir fry the chicken/pork mixture till done. Remove from the pan with a slotted spoon. Add in the prawn meat and

ingredients B

(extra fish sauce and white pepper). Gently stir fry till prawns are cooked.

In a separate pot, bring the chicken broth to the boil. Add the celery (or kangkong or choy sum), cook until the vegetables are just soft. Remove with a slotted spoon and set aside. Keep the broth simmer.

To prepare the serving bowl: place some cooked vermicelli in a noodle bowl. Arrange some cooked prawns, vegetables, chicken/pork mixture on top. Scatter some chopped spring onions and dills - Use your judgement here. Some likes a lots of herbs, some wants just a tiny bit!

Back to the broth: put the prawn water prepared earlier to the hot chicken stock. Bring to the boil – the mixture will look something like this when heated since the prawn meat will float up!

Check the broth for seasoning. Keep boiling till the broth is very hot (this is very important!), then, pour to the prepared noodle bowls. The broth should be hot to "warm up" all the ingredients.

Now it is ready to eat! Serve with a few drops of lemon/lime juice and a bit of chilli sauce if you wish!
~~~ Ready to eat!~~~

The dill picture is coutersy of http://kraeuter.aid.de/. This post contains some links to other sources for references.
Tagged with:
Weekend Herb Blogging
&
WHB