This week WHB is hosted by Nandita of the lovely Saffron Trail. Nandita is a great cook as well as a doctor, who has great knowledge about healthy issues (I have been reading her articles quite often lately!). For these reasons, I decide to dedicate this week WHB entry for an issue close to every mother´s heart – kids in the kitchen!
Of course I am not yet a mother but hopefully in the future I can teach my kids to learn about food and cooking since young age. That´s why I am very impressed when reading about Stephanie Alexander´s kitchen garden project in Delicious Magazine. For quick information, Stephanie is a famous Australian chef, and for this project she teaches primary school kids to cook dishes with produce they have grown. Isn´t that great? What is a better way to teach kids to appreciate vegetables and healthy food? I remember my parents used to tell us about the benefits of vegetables all the time, but I didn´t fully realize that until I started cooking for myself. Furthermore, cooking is a very good skill to have. I have seen many international students who cannot cook so they live on constant takeaways or instant noodles. I guess it is ok to do it once in a while, but definitely not healthy for longer term!…Opps….! I sound like my mother now (*wink*). Better to stop before this entry becomes a lengthy speech! 😛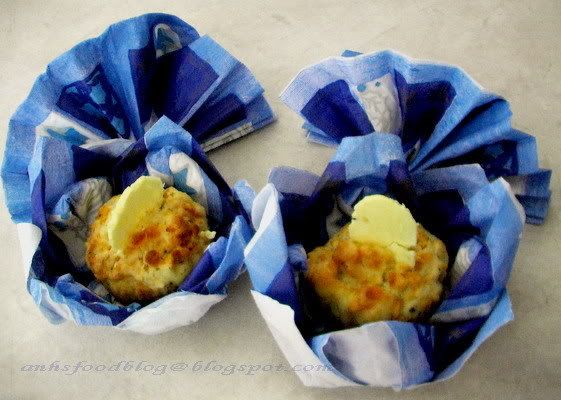 Anyway, I decided to try some carrot muffins with garlic butter, a recipe from the article and also in Stephanie´s Kitchen Garden with Kids cookbook. The results are great. I really love these little savory muffins. The garlic butter and parsley added create good fragrance for every bite. Great for on-the-go breakky! But they are even better after warming up for 30 sec in the microwave. Yummy!
I have uploaded here the scan of Stephanie´s advice for kids to read before they start to cook. It sounds very cute actually :P. Just go to the link and follow their instructions to download the file.
I leave you now with the recipe for the muffins. I re-write Stephanie´s instructions so it appears shorter. The original recipe is longer and more detailed. If you wanna have a PDF scan of the whole article together with the recipes to cook with your kids, please email me. For copyright reasons, I cannot distribute them freely here.
To see the recipe, click on the picture below.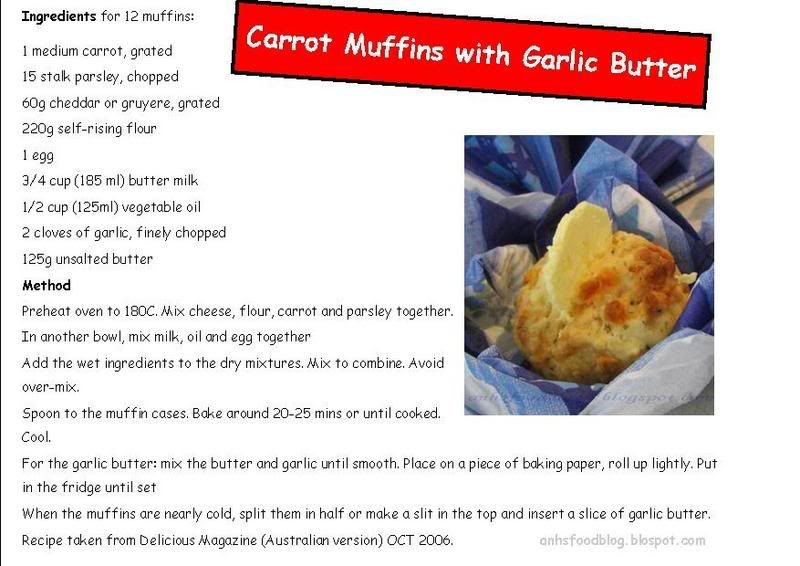 Tagged with: Weekend Herb Blogging & WHB