>> Friday, November 24, 2006
WHB is coming to Melbourne, my city, this weekend. It is hosted by the gorgeous Haalo of Cook (almost) Anything at least once. Do check out her blog for mouthwatering pics. They are adorable!
For this week, my main feature is passionfruit. I simply fall in love with passionfruit since my previous try on using it in cupcakes. The natural tartness provides lovely taste to various dessert creations. I cannot recall one dessert with passionfruits that I don't like. Guess that the tiny fruit has captured my heart.
A bit of information about passionfruit. The fruits are good source of fibre, vitamin C and potassium. The black seeds are perfectly edible. Oh ya, before I forget! Just repeat from my previous post on passionfruit. It is said that after eating the fruit, you will fall in love with the next person you meet… True or not? I will let you discover for yourself. ;-)
This time round, I use passionfruits to make simple Frozen Passionfruit Yoghurt. It is lovely for those extremely hot days that we have in Melbourne recently. And guess what, it is quite healthy compared with ice-cream. Nice summers treat indeed!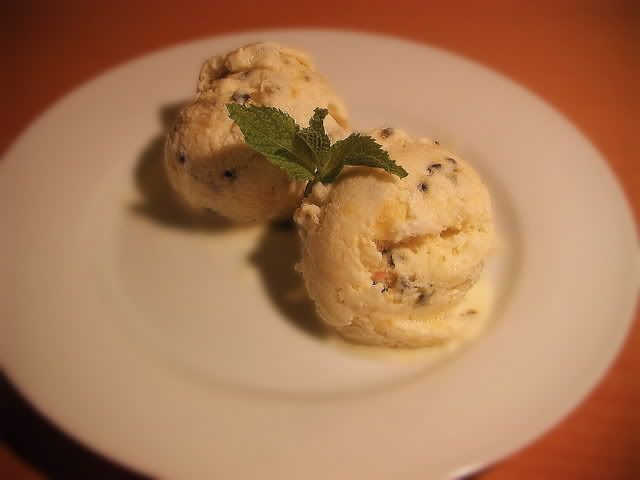 Frozen Passionfruit Yoghurt
Recipe from Australian Woman Weekly

Ingredients
Ingredients
110g castor sugar
1/4 cup (60ml) water
1 tsp gelatine
2 cups (560g) yoghurt
1/2 cup (125ml) passionfruit pulp
Directions
Stir sugar and water in small pan over low heat until sugar dissolved. Transfer to medium jug.
Sprinkle galantine over the syrup, stir until gelatine dissolves
Combine yoghurt and pulp in jug with syrup. Pour yoghurt mixture into loaf pan, cover tightly with foil. Freeze for 3 hours or until almost set. Scrape yoghurt from bottom and sides of pan with fork; cover return to freezer until firm.
***
Weekend Herb Blogging is founded by Kalyn. For more information, please check out her website.
HAVE A NICE DAY!

Tag:
WHB
Recipes
Weekend Herb Blogging