>> Saturday, December 30, 2006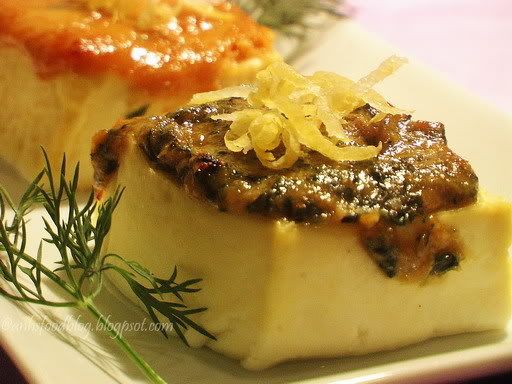 I normally crave for simple and healthy food after too much festive food. At the moment, I just want steamed green veggies, a bit of rice and some clear soup to get by. No greasy food, no bake, no cake or tart, I can snack on raw nuts and fresh fruits. Wonder if everyone is the same like me?
It also seems that the holiday mood have also got into my kitchen. I haven't been too much active there since I spent hours in shopping centers over the last few days. Then, even when I was at home, I was occupied with a few good novels. I guess that is what we call Holidays!
Nevertheless, I did cook something simple to satisfy my craving. I opted for vegetarian dishes – simple, clean and meatless. For me, it normally means more tofu in my diet. I love tofu, but sometimes run out ideas on how to make it interesting. One of my little new discoveries is this Japanese dish – Grilled Tofu with Miso and Spinach. Not sure about the authenticity but it does taste good. Not to mention it is very healthy, too – no deep-fried – and it helps us to eat more soy products, which I think is good.
Grilled Tofu with Sesame and Spinach Miso
Source: Australian Women Weekly
Ingredients
600g firm tofu
½ cup (150g) shiro miso (white miso)
2 tsp sugar
2 tablespoons mirin
80ml dashi (Japanese fish broth – I used the instant one. Can substitute with veggie stock for a complete vegetarian option)
2 tablespoons tahini
8 spinach leaves
1 tablespoon finely shredded lemon rinds
What to do
Press tofu with a weight on top – Make sure all the water is drained out

Combine miso, sugar, mirin and dashi in small saucepan. Cook, stiring unti sugar is dissolved. Stir in tahini

Microwave spinach till wilted. Squeeze out excess liquid. Blend or process with half of the miso mixture.

Cut tofu into 2 cm slices, pat dry with absorbent paper. Place on an oiled oven tray, cook under hot grill for about 3 mins or until browned lightly. Spread spinach miso onto half of the tofu piece and the other half with the plain miso mixture. Cook under hot grill for about 2 mins or until browned lightly, Sprinkle with rinds before serving.
Note:
Miso can vary in taste so adjust your sugar accordingly.

Tahini is the sesame paste, which can be found in the health food section of supermarket
I ate my tofu with this simple lentil soup: