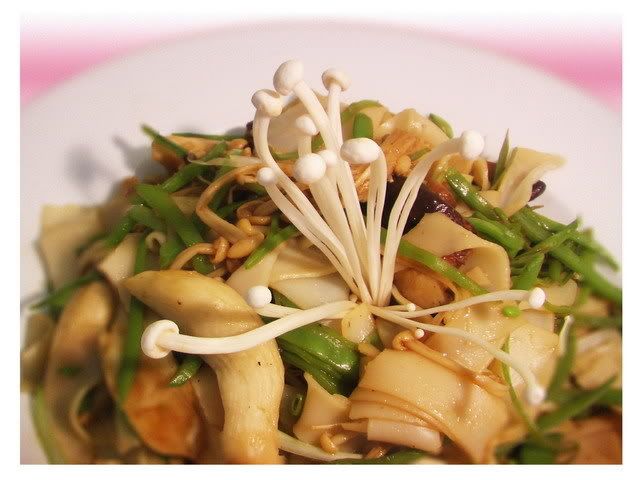 Mushrooms are so beautiful! Their diverse shapes and colors always amaze me. Long ago in my childhood daydream adventure there was a colorful forest where I could find red, purple, pink and even green mushrooms. Later on I have seen pictures of even more colorful mushrooms like this and this. Pretty as they are, not all mushrooms are edible. In fact, most of them are poisonous and only a small portion is edible. These edible mushrooms are real treasures. They contain good source of proteins, no fat and no carbohydrates. Some mushrooms are known for their health benefits and used in medicine as well.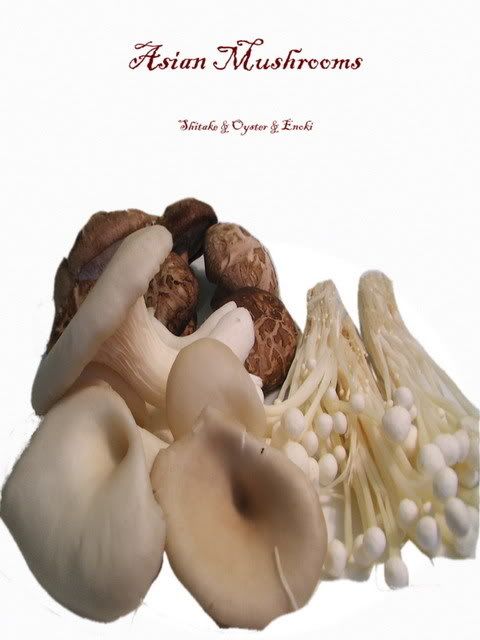 There are so many ways to enjoy mushrooms – stir-fry, soups, salads etc. But if you are looking for a light, refreshing dish, do try this Rice Noodle with Three Types of Mushrooms. It is meatless yet so flavorsome with fresh Asian mushrooms – shitake, enoki and oyster. Shitake provides the earthy flavor; oyster brings some delicate and velvety touch. And the gracious enoki, my most favourite mushroom of all, brings out the light sweetness… Together, they are just so beautiful….
To cook, you need to find fresh flat rice noodles, which are available at Asian supermarkets. The dried version can be substituted, too, but it won´t be as soft and silky. Remember to work quickly and serve immediately otherwise a lot of flavors will be lost.
Rice Noodle with Three Types of Mushrooms
Recipe is adapted from Tiny Delights by Elizabeth Chong. If you like, add some shredded spring onions to garnish. I would recommend you to omit them, since the onions can be too overpowering.
Ingredients (for 2 serves):
375g flat rice noodles
1 handful bunch of enoki mushrooms
6 fresh oyster mushrooms; slice into half
6 fresh shitake mushrooms, slice into half
150-200g of snow peas, cut into thin strips
Peanut or corn oil to stir-fry
Sauce ingredients – mix together:
1 tsp light soy sauce
1 tbs oyster sauce (I substituted with sweet soy sauce for vegetarian option)
Some salt
Some pepper
½ cup chicken stock
1 tsp sesame oil
Some sugar (if necessary)
Direction:
Heat peanut oil in a preheated wok and stir-fry all the mushrooms and the snow peas for one min.
Stir in the seasoning, and then mix in the noodle. Be careful not to break the noodle.
Toss through shredded onions if using. Dish out and serve.
(I put some fresh and uncooked enoki mushrooms on top to garnish. They are very nice eaten raw)
Tag: recipes asian food food blog food and drink noodle