>> Thursday, December 28, 2006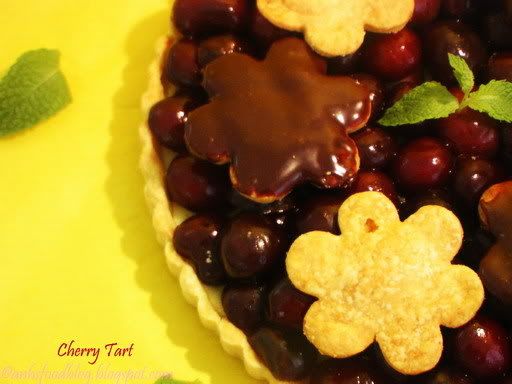 The cherry season in Australia this year has been wonderful. Cherries are available abundantly in the market at affordable price, which makes it a crime not to eat as much as possible. I love cherries – their elegant, tempting look and especially the wonderful flavor that cannot be mistaken or replaced with any other fruits. They taste great in dessert as well although the thought of pitting cherries one by one did make me hesitant… But having seen Haalo of Cook (almost) Anything at least Once whipped up so many types of desserts using cherries, I know my laziness is not justified…
My initial idea of a cherry dessert came from my flatmate who wanted a cherry pie. So I searched high and low for cherry pie recipes and found a few. The one I particularly liked and almost made was by Rose Levy Beranbaum. Rose's pie looked and sounded good but it somehow did not match my fantasy of a cherry pie/tart. I did not want a mushy cherry filling. I wanted my cherries to show their glorious colour… Continue searching, I came across this Mascarpone Cherry Tart made by Ivone of Creampuff in Venice. For a moment, I knew this was "it". I loved anything mascarpone. Plus the tart had the "dream" look I craved for…
Although this was the first time I made tart/pie from scratch, I went after my imagination instead of following the recipe exactly. For the crust, I used the almond and butter piecrust recipe. Half of it went through all the blind-bake, then, filled with mascarpone mixture and baked again. For the other half, I used my cookies cutter to make little flower pastries for decoration. These were baked till golden brown, then; some were dipped in melted dark chocolate. The filling was easy. Following Haalo's advice, I poached them with little sugar and water. The leftover juice was boiled till thickened. The tart was served with the thickened cherry juice and melted dark chocolate (I simply cannot get over the perfect combination of cherry and chocolate!).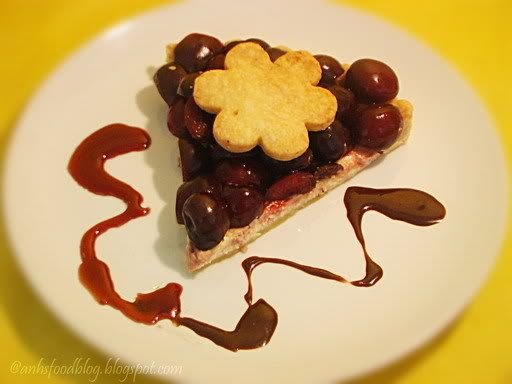 This tart was my fantasy… The "main character", cherry, was naturally perfect. And the "supporting crew" was also brilliant – the rich crust, the underlying cheese "custard", the cute little flower pastries and of course the dark chocolate… Wickedly delicious is how I would describe it…!
I owed a big thank to Haalo for answering all my questions on poaching and making the cherry pie. Your advice really helped me with this tart! Thank you!
The recipe for Mascarpone Cherry Tart can be seen here. The piecrust recipe is from Elise of Simply Recipes, view here.