You know sometimes the things you absolutely dislike and the things you madly love actually make perfect combinations? Well, I am generalizing a bit, but it is actually quite true. One perfect example is this unusual soup – Chicken with pineapple and bitter gourd. While pineapple is in my top favorite fruits, bitter gourd has been a real challenge for me since childhood. I just could not bear its bitter taste. For pineapples, it is a completely different story. I can eat them all the time. Thus, reading the recipe for Pineapple and Bitter Gourd Soup, I was not really sure how it would taste.
The result was surprisingly pleasant. The soup has the perfect combination of sweetness, sourness and bitterness. Each flavor is delicate and comes together very well, making a light and soothing dish. This is perfect for hot summer days when you just need something to calm the body down…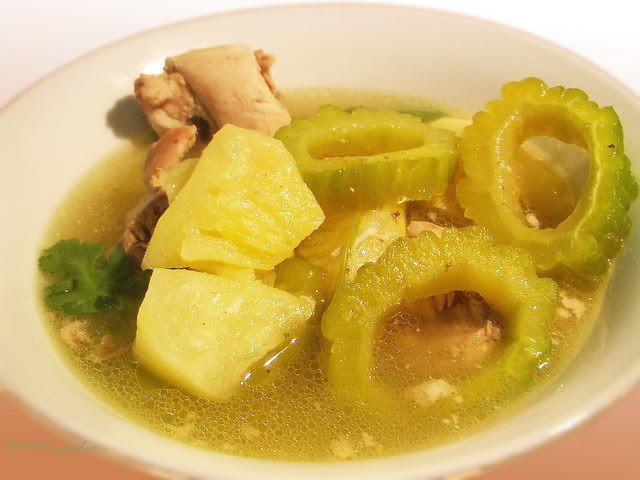 It is so simple to cook up the soup. One thing to remember, though, is using everything fresh. Pineapples should be just ripe to get the right balance of sweetness and tangy. Bitter gourd will turn very bitter if it is not fresh. Yeah, tricky business for a simple dish!
Here is how I cook it (based on the instructions by Cavang at WTT, a Vietnamese Forum which is unavailable at the moment):

You will need around 600g of chicken pieces (with bones), ½ – ¾ large pineapples and 1 medium bitter gourd.
– Boil 600g chicken pieces (I removed the skin) for 10 mins. Drain out the water and wash the chicken. This is to remove any impurities.
– Boil the chicken pieces for the 2nd time with 4-5 cups of water to make the stock. Cook at low medium heat for around 30-40 mins.
– Add the pineapple pieces – cook until soften a little but not soggy
– Now, add the thickly sliced bitter gourd (Remove the inner part to reduce the bitterness). Boil until cooked.
– Season with sea salt or chicken stock powder. You may need to add more water and a bit of sugar to get the right balance of taste.
– Serve 3-4 as a part of a rice meal
The current entry is for Weekend Herb Blogging, which is back to its founder, the lovely Kalyn this week.
Tag: WHB Recipes Weekend Herb Blogging