>> Monday, January 22, 2007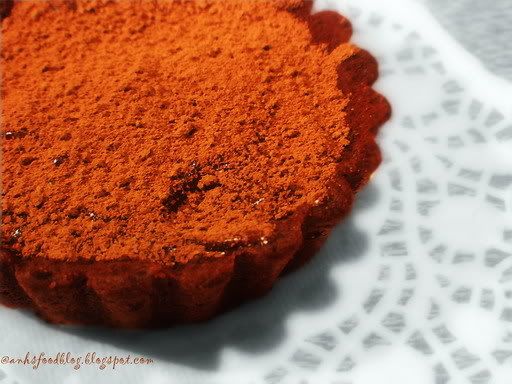 The theme for this month Sugar High Friday is Chocolate by Brand. When it comes to chocolate, I don't stick to a particular brand. Chocolate is a timeless art and the chocolatiers are artists who can explore and create different flavors and depth. Enjoying such diversity and colorful of flavors is a great pleasure. Nevertheless, my true weakness lies in dark chocolates since I love the intense bittersweet taste. A piece of good dark chocolate with a perfect espresso is something I am always ready for!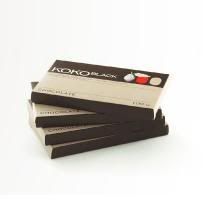 Back to the SHF theme, I have decided to feature my favourite local brand – Koko Black. Opened in 2003, Koko Black is very young compared to the long history of chocolate seduction. Despite the short history, they manage to capture and deliver the fine quality and timeless art of chocolate making... Come to Koko Black, you can watch how chocolate is made, taste the beautiful truffles and bars with different varieties, enjoy one of the most beautiful hot chocolate in Melbourne and most of all, indulge yourself in the culture where chocolate is everything.
This SHF inspires me to try something new using Koko Black's products. I have tasted their wide ranges of truffles and hot chocolate but this is the first time using their dark chocolate to bake. I used two varieties to make Mini Dark Chocolate Tartlet – 60% and 74% coverture. Both products are house recipes, created by master chocolatier Arno Backes. They are rich, dark and especially smoother than other dark chocolate varieties that I have tried.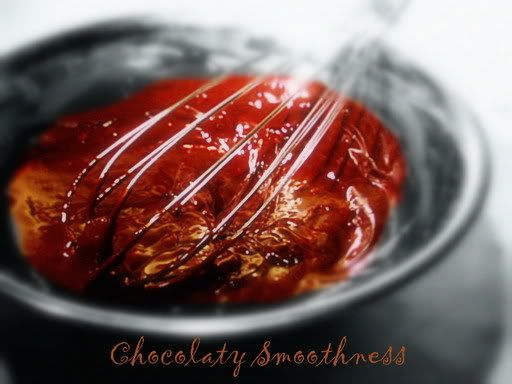 And the tarts turned out so well. The crisp chocolate pastry was filled with rich and soft mousse-like chocolate. But that was not all. At the top was a thin layer of the 74% coverture chocolate which provided a surprisingly beautiful crunch.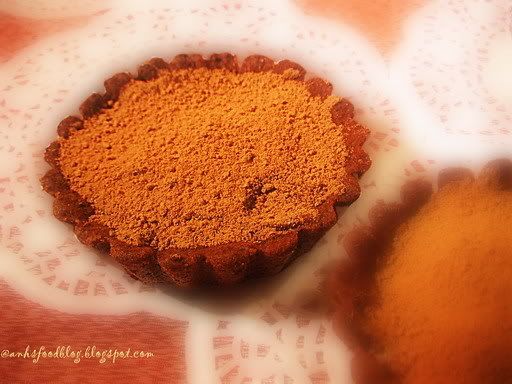 MINI DARK CHOCOLATE TARTLETS
Adapted from recipe by Natalia Schamroth printed in Cuisine Magazine. Use the smallest tart moulds that you have.
Ingredients
For the pastry
60g unsalted butter, softened
60g castor sugar
1 tsp of vanilla extract
70g plain flour
25g cocoa powder
For the filling
70ml thickened (whipping) cream
100g 60% dark chocolate
2 teaspoons espresso coffee (or 1-1.5 tsp instant coffee powder dissolved in 2 tsps of hot water)
50-60g 74% dark chocolate
Cocoa powder for serving
Method
Beat the butter and sugar until light and creamy. Add the vanilla extract.

Sift together the flour and cocoa then stir in to the butter mixture to form a dough. Break off small pieces of dough and press into greased tart moulds. Use your fingers to press a 2mm layer of pastry evenly into the tart moulds. Refrigerate for 1 hour.

Bake at 160°C for 8-10 minutes or until the pastry has cooked through and puffed slightly. If the pastry shrinks; press it back up the sides of the moulds immediately after removing from the oven while still hot. Cool, in the moulds, on a cake rack.

Heat the cream almost to boiling point then pour it over the 62% chocolate and add the espresso. Leave for 5 minutes then whisk well until shiny and thick. Spoon into the baked pastry cases.

Melt the 74% chocolate in a double boiler or microwave. Spoon a little over each tart to form a thin layer. Once set, pop the tarts out of their moulds. Refrigerate in an airtight container until 30 minutes before serving. Dust with a little cocoa powder to serve.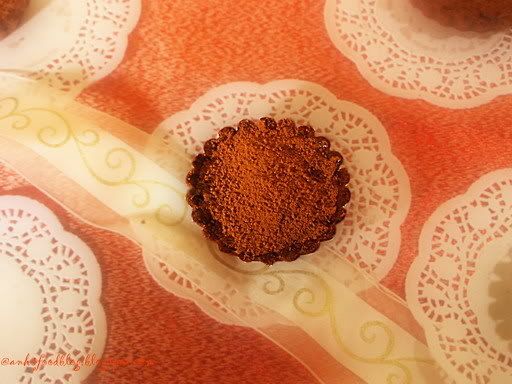 ***
This post is my entry for Sugar High Friday #27 Chocolate by Brand hosted by
David Lebovitz.

* Chocolate bar image is courtersy of Koko Black, Australia.
Tag:
Sugar High Friday
SHF
chocolate
Recipes