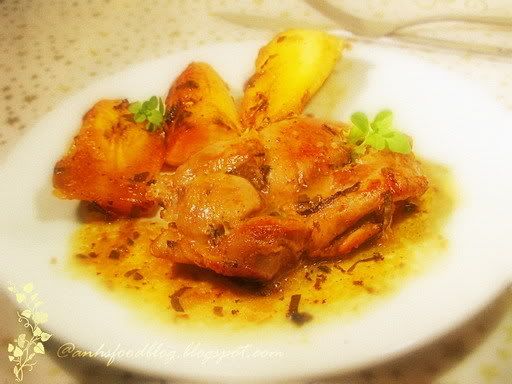 My work and study load has been unexpectedly high lately, and it will only get worse in coming months. I have started to feel the stress and exhaustion of long working hours. Many things to do yet so little time!
During this stressful period when I do not have much time in the kitchen, one of the relaxing moments is to take care of my herbs. I started to grow them about 2-3 weeks ago in a small pot placed in my little balcony and they have done quite well in the heat of summer. As you can see in the photo, I have some marjoram, thyme, sweet basil and sage. They all have beautiful fragrance which is so soothing. Even looking at their green leaves makes me happy. I guess this is what we call "Herb Therapy"!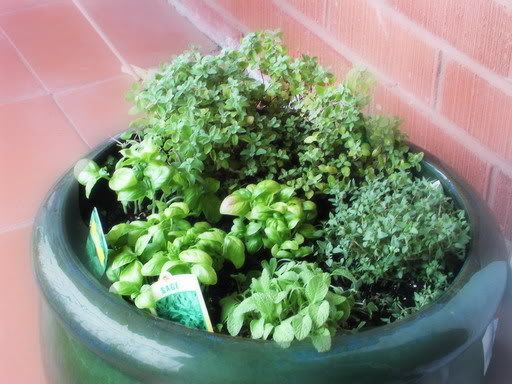 Despite the heavy workload, I did manage to spend some times in the kitchen to whip up a beautiful dish called Havana Chicken. I used my first harvest of marjoram in this and it went well! Funny how little things can make us delighted? Using my home-grown herb (although just a little bit!) brings a sense of pleasure which I have never experienced before. Now I wish I could have my own garden one day!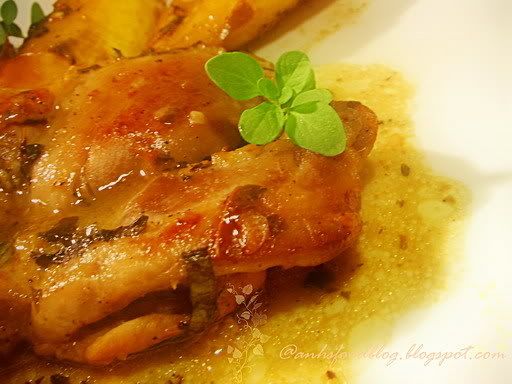 If you love tangy flavour, give this dish a try. It has a sharp appetizing taste from the lime and orange marinade. I actually used half of the recommended lime and orange, but it still worked well since the marinade was left overnight. I did add a little sugar before roasting the chicken to balance out some of the tanginess, but this is up to your preferences. The recipe is from Cuisine Magazine, but the online version can be viewed here.
For this, I also used plantains for the first time! Plantain is a "neighboring" fruit of banana. It has the same shape as the normal bananas, yet needs to be cooked. They are a lot firmer and contain less sugar, too! I love the roasted plantains and will definitely try them in other dishes. The recipe suggested using sweet potatoes to substitute. I guess they will also work, but you will lose the beautiful texture and flavor of plantains. They are definitely worth trying if you can get hold of some.
This post is my entry for Weekend Herb Blogging, an event founded by Kalyn. This week edition is hosted by Scott from Real Epicurean.
Please check out his blog for the round-up. WHB is a wonderful place to find awesome recipes. This week I tried Sher´s Spanish Cod Soup, With Spinach, Chick-Peas, And Parsley, which was shared in previous WHB. It was so tasty I wanted to lick the bowl!
Tag: recipes food blog food and drink Cooking
Weekend Herb Blogging