>> Monday, January 08, 2007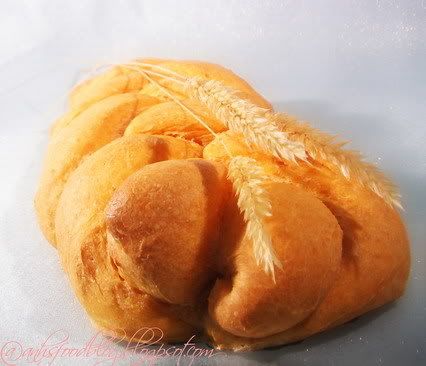 Something very strange happened last week in my kitchen. Or rather, there was something strange with me??!! In the rising heat of Melbourne summer, I was astonished to find myself in the kitchen, making bread. Sure I made pizza crust occasionally, but to make bread from scratch instead of going out to my local bakery was something unusual indeed….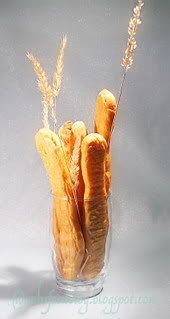 The truth was my mood kinda swung on that day, feeling restless, moody and uneasy. You know, there were certain moments in life when you just wanted to get out of the normal routines, doing something new, traveling to somewhere unfamiliar etc. No, I don't think it was boredom, but some kinds of forces pushing myself to break through the existing "comfort zone" and try something different. On that particular day, I took on the challenge and pleasure of bread making…
… I admit I found something new during the process of kneading, proving, shaping, proving then baking in the oven. The wholething was like an adventure to me. While kneading helped me to let loose the anxiety inside, the proving phase required a bit of patience and timing, something I lacked. But that was not all. I simply love playing with the dough, shaping it according to my imagination. Of course my shaping skills weren't perfect, but the pleasure was still there...
I picked a random bread from The Italian Baker – Sweet Pepper (or Red Capsicum as called here in Australia) Bread – a "new wave" bread created by Italian bakers. The fragrance of roasted capsicum filled my little kitchen when the bread was baked in the oven – so lovely… Such fragrance in the finished products was not as strong but slightly there. Perhaps next time I would increase the quantity of capsicum a bit more because their fragrance was absolutely gorgeous…
As you could see from the photos, I made different types of shapes from my dough: some sticks, medium pleated and some small no-particular-shape ones. Home-made hummus was also specifically made to enjoy with the freshly baked bread.
This is the interior look of the bread. I was surprised at the texture – kinda dense yet not chewy. This is my favorite photo of the whole lot, too.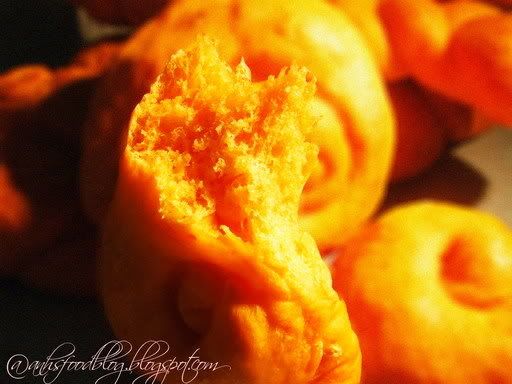 Feel like I have been captured by the charm of bread making, haven't I? I begin to love everything about it – the patience, the frustration, the hope and the release of stress… Should I expect more breads coming from my kitchen? – "Perhaps, perhaps, perhaps".
***
Sweet Pepper Bread
Adapted from The Italian Baker
Ingredients:
1 large sweet red pepper
2 tablespoons olive oil
11/4 tsp active dry yeast
11/4 cup warm water
500gram unbleached all-purpose flour
2 tsp salt
Directions (some steps modified by me)
Roast the capsicum in hot oven with little olive oil till soft. Take out and out into plastic freezer bag, leave for about 15 mins. Once slightly cooled down, peel off the skin and discard seeds.

Stir yeast with water in large mixing bowl, stand until creamy. Stir in pepper and 2 tbp of olive oil. Slowly mix in the flour, one cup at a time, till the mixture comes together. Knead on a lightly floured surface till soft and elastic (about 8-10 minutes)

Put the dough in oiled bowl, cover with plastic wrap and let rise till doubled (around 1 hour)

Punch the dough down onto lightly floured surface, knead lightly. Shape as desired. Place the shaped dough on oiled baking pans, cover with damp towel, let rise until doubled (45 mins ~ 1 hour)

Heat oven to 450F. Place the dough in the oven, immediately reduce the temperature to 400F. Bake, spray 3 times with water for the first 10 mins. Bake till bread is golden (depending on the shapes). Cool completely on rack.
Note:
- The author suggests grilling the sweet pepper, then lightly stir-frying with olive oil.
- The suggested shape for the bread to two J-shaped log. The quantity specified above is sufficient for 2 loaves.