One of the "secret" ingredients to cook pho is a type of dried sea snail that exists in only certain parts of Vietnam. I have searched high and low for it here but there is no result. Nevertheless, in one of the random pick a while pack, I bought some Chinese sea snail to try out. Surprisingly, they did give a beautiful sweet taste to the broth. Here is the picture of the package (click on the picture to enlarge).
The version here includes two types of beef: Long-boiled one made from beef chuck & the freshly cooked beef slices made from tenderloins. Choose to serve the rice noodle with one type of beef if you wish.
Ingredients for the broth (A) - enough for medium 4-5 bowls
200gram of sea snail (optional – see note)
1-2kg beef bones (choose the tail end if you can)
700gram of beef chuck without bones (or gravy beef as called in Australia) in one piece, tied it up with kitchen string like preparation to roast. This helps to prevent the meat from falling out when boiling
1 large piece of ginger
4 shallots
4 cloves of garlic, skinned on
1-2 star anises
1 cinnamon stick
Salt and fish sauce, to taste
Ingredients for serving (B) - enough for medium 4-5 bowls
1kg rice noodles: flat types for use in soup.
500gram of beef tenderloins (I used round steak), thinly sliced. Marinate with 1 tablespoons of fish sauce and 1 teaspoon of minced garlic
3-4 geen onion (or spring onions): thinly sliced
4 sprigs of coriander root: clean thoroughly to get rid of the sand
To serve (C): freshly cut chilies or Asian-style chili sauce (like sambal olek), lime or lemon wedges.
To make the broth
Firstly, you need to char your ginger, shallots, garlic and briefly roast the star anises, cinnamon stick and cardamom. I simply put the herbs and spices separately to roast in the hot oven for shortcut. The herbs should take a bit longer while the spice may take around 2 mins.

Clean the beef bone thoroughly. Boil with water

vigorously

for 10-15 mins. Discard the boiling water. Using food-grade gloves, carefully clean the bones again, remove all the visible fat and beef marrow. This is important so that you will have a light and clear broth.

Add water enough to cover the bones and the beef chuck, bring to the boil then simmer gently over low heat. Add spices, herbs and the sea snail.

When the piece of beef chuck is cooked (after 40-50 mins), take out. Submerge in cold water for a while then thinly sliced. Set aside.

Continue to boil the broth at low heat for another 30 mins.

Remove all the sea snails, spices and herbs. Add more water to make up the amount needed for the serving (you will need around 6-8 cups). Add seasoning to taste. Keep the broth simmering while preparing to serve.
Assembling
Prepare rice noodles according to package if using dried version. For fresh rice noodles, put them briefly in hot water to heat up.

Divide noodles in bowls for serving. Arrange some cooked beef chuck on top. Add some spring onions.

Turn the broth to rapid boiling point. Add in the coriander root. Simmer for 1-2 mins then take out.

Now, to cook the beef tenderloins: in restaurants, the broth is constantly hot so that they just have to pour it over the beef slices and cook them. However, at home, it is harder to have that effect. The trick here is to use place some beef slices in the slotted spoon, dip everything in the boiling broth and let them cook (should not take more than 2-3 mins for a small batch) – this is very similar to eating hot pot (or steam boat). When the beef slices are cooked, place them in the bowl. After this, wait for the broth returns to boiling before continuing cooking the beef slices or serving. Do not cook all the beef slices before hand. Cook as you go to retain the freshness and tenderness.

Pour hot broth into the bowl. Eat when it is hot. Some people like to add few drops of lime/lemon and chili. Some do not, so it is up to you to enjoy your very bowl of Pho!
Note:
1. You can choose to serve Pho with one type of beef.
2. If you cannot find the dried sea snail, replace it with some daikon. Put one medium daikon to simmer with the broth together with all spices and herbs then discard later. Daikon will help to flavour the broth.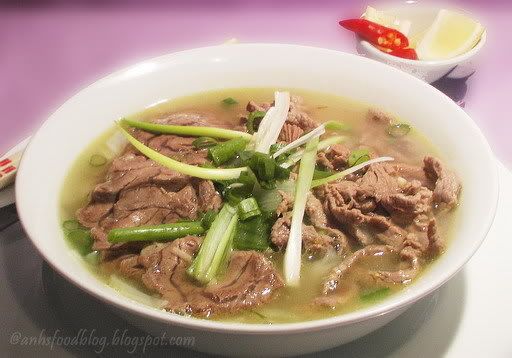 Tag:
recipes
food blog
food and drink
Asia
Southeast Asia
Vietnam
Vietnamese Food
Vietnamese Cuisine
noodle