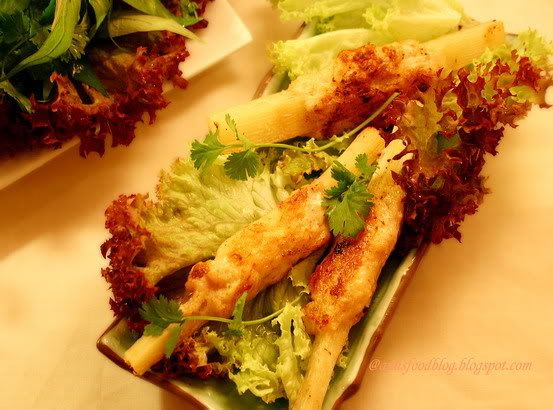 First of all, Happy Lunar New Year to all of you! I hope this year will bring you love, happiness and joy…
I did not really celebrate Lunar New Year to the full extent here in Australia. Reasons? Many, but one of them is the very hot weather this week. The heat really turned me off, thus no baking or deep-fried food allowed! Instead, we celebrated the New Year with a light and aromatic dish called Chao Tom (Prawn Paste on Sugarcane Stick). The prawn paste mixture was molded onto sugarcane stick before being steamed and lightly grilled. Here the sugarcane gave the prawn a juicy and lightly sweet flavour. You could even chew on the sugarcane to taste the wonderful sweetness after finishing off the prawn (note: strong teeth required 😀 !).
The fun part was actually on the dining table! What each person did was placing the prawn together with lettuce leaf, varieties of fresh herbs and some rice vermicelli onto a rice paper then rolling it up. To eat, dip the whole thing into nuoc cham (dipping sauce) and enjoy the flavour to the fullest! It was so fun watching people busy rolling up the rice paper and eating. Some were very messy with their rolls, some were neat. But the main point was to be really quick otherwise nothing would be left for you.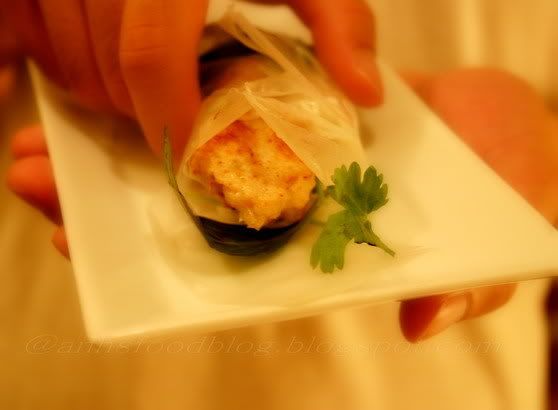 As a host, this dish is quite quick to whip up. The prawn stick can be steamed earlier and grilled close to serving. The rest is just preparing some rice vermicelli, the dipping sauce and a lot of fresh herbs on the table. The herbs I used were lettuce, coriander, Vietnamese mint and Thai Basil. In Vietnam, more herbs are used but just use whatever available. The key point is the herbs should be fresh. And that´s all. You can sit down and relax until your guests arrive and let them practice their rolling skills!
Just some notes on the ingredients. I know fresh sugarcane is hard to get. I actually find that canned sugarcane from Thailand (pictured) works really well. The rice paper should be available at all Asian stores. However, if you can get the brand in the photo, it will be great. This particular type imported from Hanoi doesn´t need soaking before rolling. You can use it straight from the package to wrap things up.
PRAWN PASTE ON SUGARCANE STICK (CH