Finally I have 30´ or so to update my blog. This week has been extremely busy for me and it seems I will be at this high speed for a while. I am still in the process of adapting for a tighter schedule and trying to be "stress-free" as much as possible. Being a busy bee, I did not have much time to spend in the kitchen. Thus, something familiar and simple is good at the moment.
For this week Presto Pasta Night over at Ruth´s Once upon a Feast, I go back to rice noodles, my ultimate comfort food. There are varieties of rice noodles available, and each one is suitable for a particular type of preparation. The differences are in the thickness, wideness and also the texture of the noodles. Hopefully I will be able to show these differences in my future posts.
As for today, let us stick to the stir-fry variety. These noodles (photo) are thicker and wider than the one for soup. Being a bit firmer, they can hold the texture during the stir-fry process. I buy the 1kg fresh package from Asian stores almost every time I visit one, and it disappears pretty quickly from the fridge. If you are in Melbourne, click here to see the package that I used.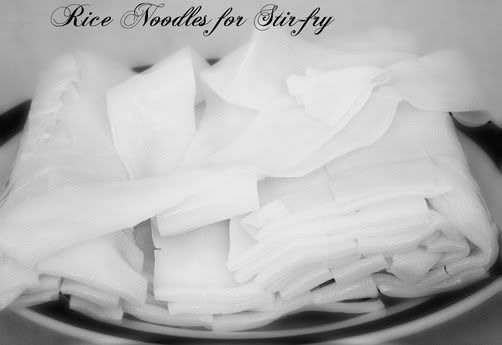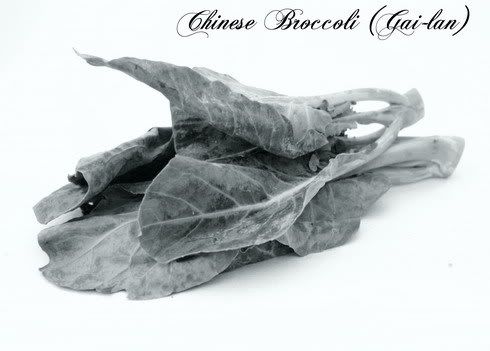 With these noodles and the fresh Chinese broccoli (photo) on hand, my first choice is the yummy Fried Rice Noodles with Ginger Beef and Chinese Broccoli. I first tasted it in southern Vietnam where the Chinese population is high. Later on, I discovered that a very similar dish called Beef Hor-fun is very popular in Singapore and Malaysia. And it is always nice, no matter where you try it!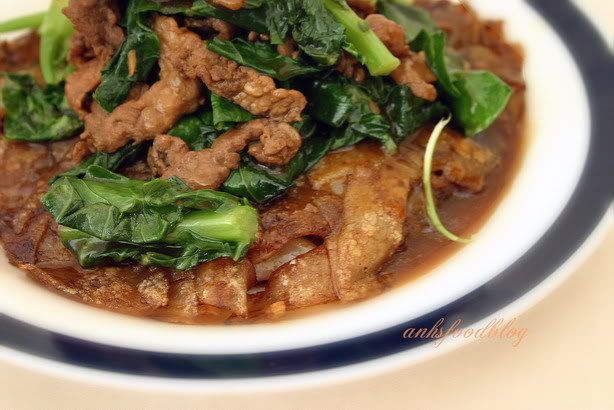 Fried Rice Noodles with Ginger Beef and Chinese Broccoli
Adapted from Amy Beh´s recipe. Please use your judgement since my recipe is estimation only.
Ingredients (for 4 serves)
400g fresh flat rice noodle (photo)
200g beef filet, thinly sliced across the grain
1 bunch of Chinese broccoli (photo), washed and cut into pieces.
A – Marinade for the beef
3 -4 slices ginger, minced
A dash of roasted sesame oil
1 tbsp Chinese Rice Wine
1 tbsp or to taste Dark Soy Sauce
B- Marinade for the noodles
1 tbsp dark soy sauce mixed with 1 tbsp of water
Corn flour, to coat the noodles, about 2 tbsp
C – Gravy – mix together
1/2 tsp light soy sauce
1/2 tsp oyster sauce
1 tsp dark soy sauce
1/4 tsp sugar
½ cup water
2-3 tsp corn flour
Oil to pan-fry
Other seasoning if needed
Chili oil, to serve (if desired)
Method
Marinade the beef with A for at least 30´.

Add the soy sauce then the corn flour to the mixture. Toss to coat.

Heat 1 tbsp of oil in a small frying pan (*), get some noodles and fry both sides until crisp. Work as you do for frying pancake. Repeat until you finish with the noodles. Set aside and keep warm (I put mine in a low oven)

Heat very little oil in a wok. Briefly stir-fry the Chinese broccoli. Set aside and keep warm.

Heat some oil in the wok, briefly stir-fry the beef. Do not stir-fry the beef for too long, otherwise it will be tough. Set aside & keep warm.

In the same pan, pour in C. Boil gently until the mixture thickens slightly. Taste for seasoning. Turn off the heat.

To serve, place the noodles in a heated plate. Arrange the vegetable and the beef on top. Pour over the gravy and serve immediately.
Note
You can fry the noodle in one small frying-pan, and stir-fry the vegetable & beef in another big wok. This way, the dish is quicker to cook and remains hot.

The amount presented in the photo is enough for two girls to share.

You can shape them smaller for individual serve.

Substitute Chinese Broccoli with other Asian Greens if you like.
Tag: recipes asian food food blog food and drink noodle

Presto Pasta Nights