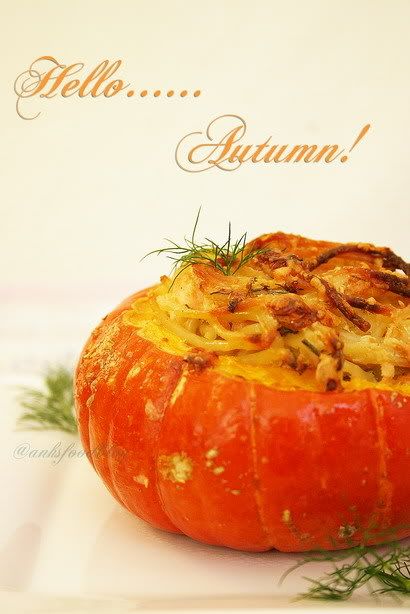 Today (March 1) is the first day of autumn in Melbourne. Finally my beloved autumn has arrived with all its lovely characteristics – blue sky, cool breeze, yellow leaves and light sunshine. The weather will be milder, too. All those hot summer days when I feel like being roasted will gradually disappear… Can´t help smiling happily!
What a better way to celebrate autumn than with pumpkins? I opted for the small varieties called golden nugget squash. Seeing them at the market last week reminded me that autumn was near. And here it comes at last!
Initially I was not sure what to do with these squashes – making soup, stuffed with meat/rice etc.??? In the end, I decided to use them as shells to bake some creamy spaghetti. No particular reason, just that I felt a real craving for pasta. It turned out to be a good decision. Firstly, my craving was satisfied. Furthermore, I could use this post to participate in a new event – Presto Pasta Nights created by Ruth of Once upon a Feast. This event will be weekly, and Ruth will post the round-up full of yummy pasta dishes every Friday. Of course a noodle/pasta lunatic like me can´t afford to miss it. So Ruth, please count me in.
My first entry is not a very quick to make, but it is an easy one. After practically 30 mins in the kitchen, you just have to pop the stuffed pumpkins in the oven for 30-40 mins. Then, with a fork & knife (and perhaps a spoon) you have everything readily to serve. And the result does worth the wait. The creamy smoked salmon spaghetti is really delicious when eaten with the sweet yellow flesh of pumpkin. Not to mention the crunchy topping… I would love to have it again for dinner tonight. Only if I could buy these small squashes more easily!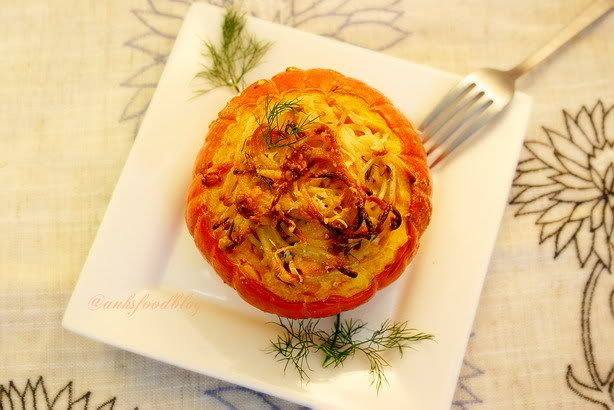 Creamy Smoked Salmon Spaghetti Baked in Golden Squash
Inspired by Jody Vassallo
Ingredients (for 2 as main course)
2 golden nugget squash (small pumpkins)
100g spaghetti, cooked and drained per package direction
Olive oil
1 shallot, peeled and thinly sliced
1 clove garlic, crushed
100 (1/2 c) white wine
200ml sour cream
½ cup freshly grated parmesan
120g smoked salmon, cut into small pieces
Dill, chopped – to taste. I love it so I put quite a bit.
Direction
Preheat oven to 180C. Cut spaghetti into shorter pieces.

Heat oil and cook shallot & garlic until soften. Stir in wine, simmer until almost evaporated. Add cream and cheese, cook slightly thickened. Toss through smoked salmon, pasta and dill. Seasoning to taste.

Cut the top of squashes, scoop out the seed. Fill the squashes with pasta mixture. With the cap on, bake them in oven for 40 minutes or until the pumpkin flesh softens. Remove the top at the last 10 mins of baking to achieve the golden crust.

Serve hot.
Tag:
pasta
Presto Pasta Nights