(*) My sun. This is the title of an Italian song sung by various artists.
Tomatoes, for me, are like little suns. I simple adore them. That´s why when I saw the recipe for the Up-side-down Tomato and Basil Pie in the recent issue of Delicious Magazine (Australian edition); I could not resist but go to the kitchen and make it straight away.
The end result was a very pretty pie. It looked like the vibrant sun with all those lovely tomatoes on top. When placing the basil leaves as garnish, it became a garden of red and green. Colourful! Somewhat too beautiful to eat! 😀 Taste wise, the pie was nice when hot (You couldn´t go wrong with a cheesy base, tomatoes and basil). However, it did lose all its charm when cold and could taste somewhere near a soggy tart (remember we have tomatoes on top, and tomatoes are juicy). So if you do try it sometimes, serve it straight from the oven, or at least get your microwave ready.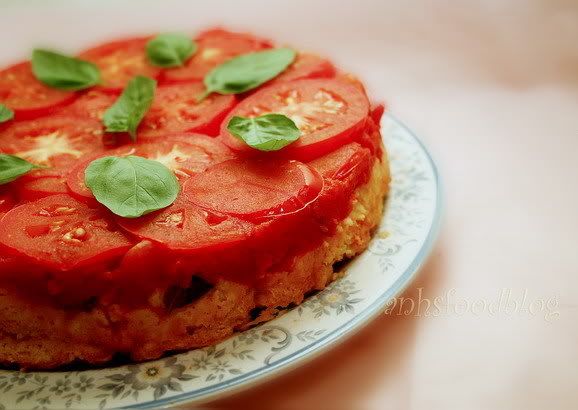 Up-side-down Tomato and Basil Pie
Recipe by Belinda Jeffery
Ingredients
800g can diced tomatoes
225g self-rising flour
1 tsp dry mustard powder
100g parmesan, freshly grated
50g cheddar, freshly grated
125g cold unsalted butter, chopped
2 eggs
80ml milk
Tabasco Sauce, to taste
4 ripe tomatoes (I used roma tomatoes)
1/3 cup thinly shredded basil leaves
Basil Leaves, to serve
Almond meal, to sprinkle
Method
Pour canned tomatoes into a sieve over a bowl. Let it sit for 10-15 mins. Stir occasionally to make sure as much liquid seeps away as possible.
Combine flour, mustard and 1 tsp salt together. Add cheeses. Scatter butter over the top and rub it in, until the mixture resembles coarse breadcrumbs.
In a separate bowl, whisk egg, milk and Tabasco (a few drops). Make a well in the centre of the cheese flour mixture. Stir to make a fairly stiff batter.
Line baking paper at the bottom of a 22cm cake pan. Spray well. Lay sliced tomatoes in overlapping circles in the base so the bottom is completely covered. Spread drained tomatoes evenly over the top and sprinkle with chopped basil.
Sprinkle almond meal over the tomatoes & basil (this helps to absorb the moisture of the tomatoes. I may sprinkle more almond meal next time to see if the tomatoes can be drier).
Dollop spoonfuls of batter over the tomatoes, then, pat it out with your hands to spread evenly.
Bake for 30-35 mins at preheated 180C oven, or until the pie is risen and golden. (Time varies depending on the pie thickness).
Remove from the oven when done (test with a skewer). Stand in a pan for 5 mins, invert to a large platter. Mop up any juices that seep out onto the platter.
Scatter basil leaves over & serve hot.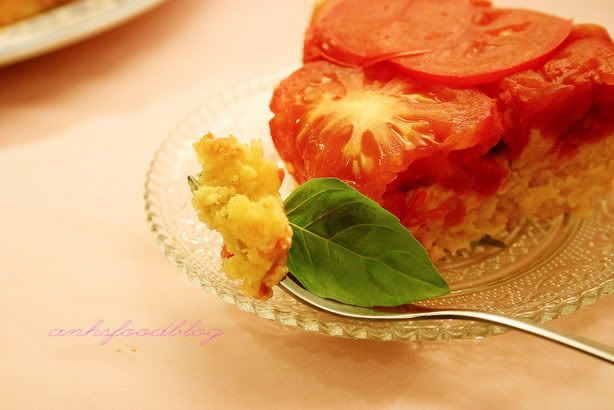 Meeta of What´s for lunch, honey is having a Monthly Mingle with the theme of Savoury Cake. Although my entry is a pie, the preparation is very much like when you bake a cake. Furthermore, the look is pretty enough to qualify it as a savoury cake, don´t you think?