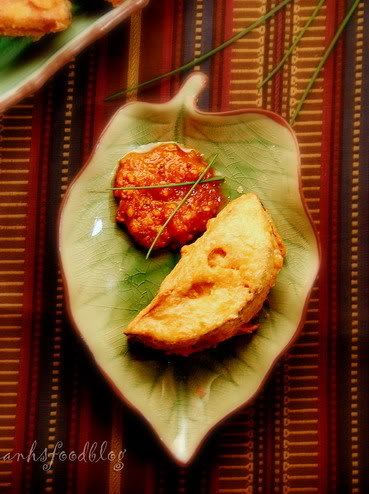 For this week Weekend Herb Blogging, hosted by the lovely Haalo of Cook (anything) at least Once, I would like to feature a starchy root – taro. By saying taro, I mean the root vegetable with firm white and light purple flesh. I think they are called yam in some other places, but the most common name is Taro.
I am personally familiar with two types of taro: the large (left) and small varieties (right). The smaller round ones tend to have sweeter flavor and more delicate texture. They are, however, harder to find. The large variety is occasionally found fresh in good Asian Groceries. Otherwise, the imported frozen products should be readily available.
When searching for taro, I am amazed to find that it is widely used in many different parts of the world like Southeast Asia, South Asia, Hawaii & Fiji etc. Some taro leaves and stems are also edible but it will be the subject of another post. As a root, taro is starchy and a good source of fiber. It can be boiled, steamed or fried in both sweet and savory dishes. Taro flour (starch) and pearls are also widely used as thickening agent and in desserts.
Today I will use taro in a modern Cantonese-style preparation. The taro is steamed, mashed and flavoured with Chinese fermented bean curd. This mixture is, then, stuffed in thick eggplant slices, coated with a light chickpea flour (besan) batter and deep-fried until golden brown. The end result is a fritter with crunchy skin and smooth, melt-in-your-mouth filling. A great vegetarian entrée or finger food.
The recipe is loosely based on a dish served at Lau´s Family Kitchen in St Kilda, Melbourne. This restaurant is packed all the time and I haven´t bothered to check it out yet. But Bea was there last month and she had a good impression.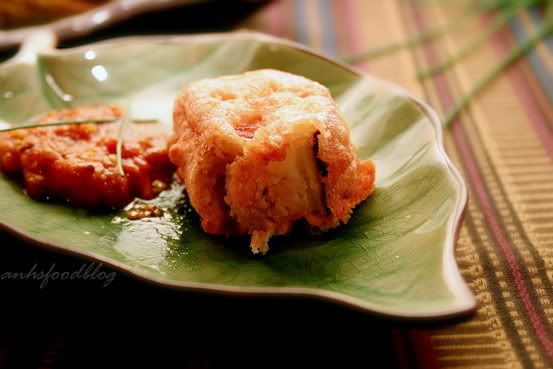 Eggplant Stuffed with Taro
Ingredients
300g fresh taro (*)
10gm piece of Chinese fermented bean curd (*)
1 large eggplant
Corn oil, to deep-fry
Potato flour, as needed
Salt, Sugar and Pepper to taste
Batter
150g besan flour
1 tsp baking powder
250ml warm water
A pinch of sea salt
Preparation
Steam and mash the taro. Mix in the Chinese fermented bean curd. Check seasoning (you may need to add a little sugar). Add some oil from the preserved bean curd so that the mixture comes together.

Mix the batter ingredients together. Set aside for at least 20 mins.

Halve the eggplant lengthwise. Cut each half into 2.5 cm-thick slices. Starting from the skin-side, cut through each slice horizontally, leaving 1cm attached at the bottom. Open out gently and press taro mixture in.

Dust the stuffed eggplants with some potato flour then dip in the batter. Deep-fry for 5 mins or until golden.

Serve immediately with your favourite Chinese sauce. I served mine with my home-made tomato pickle.
(*) You can use thawed frozen taro. However, add some potato flour to the filling mixture so that it is not too moist.
(*) Like cheese, Preserved Bean Curds vary in strength and flavor. Here is the brand I normally use and a picture of how the preserved bean curd looks like.