>> Saturday, May 19, 2007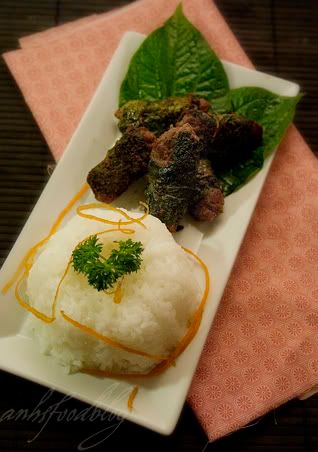 For this week Weekend Herb Blogging hosted by Rinku of Cooking in Westchester, I have come back to my comfort zone of Vietnamese cuisine and chosen a lovely herb to feature – Wild Betel Leaf (also called Pepper Leaf).
Before I proceed, I think some clarification is needed about this lovely herb. Wild Betel Leaf (Vietnamese name: La Lot) is a relative of the normal betel leaf used to chewing betel nuts (which is only for old, very old ladies!). Since they have very similar appearance, it is quite confusing even for Vietnamese cooks! The best way to differentiate, in my opinion, is by the fragrance. Wild Betel Leaf has much stronger peppery fragrance. In terms of taste, it is less "spicy" than the normal betel leaf. I know this sounds puzzling for someone who is not familiar with Vietnamese cooking. My advice is to go to a Vietnamese grocery shop and ask for assistance. The shop I go to in Springvale labels this leaf as Pepper Leaf.
Wild Betel Leaf is used throughout Vietnam to flavour various dishes. The most famous one is definitely grilled/pan-fried minced meat wrapped in wild betel leaf. For most parts of Vietnam, mince pork is used and the meat parcel is normally pan-fried. However, in some fancier restaurants, mince beef is preferred and grilling seems more popular. The second method is popularised by the Vietnamese overseas and it has become a not-to-be-missed dish if you dine in a Vietnamese restaurant. Noodlepie has tried and liked it.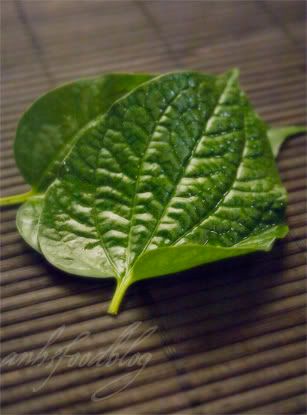 Wild Betel Leaf is one of my top favourite herbs. I usually buy it to make the famous dish above. But any leftover can be used to garnish soup, stir-fry and even salad. My favourite so far is adding them in omelette. However, today I am making the famous minced beef wrapped in wild betel leaves. This is the northern home-style version, which my mom and grandma always make. It is simpler than the restaurant version, but the taste is still superb.
Just another note about the recipe. I have found that the readily minced meat is too fine for this. My mom normally chops the meat herself, which yields much better texture. And being health conscious, she adds egg instead of lard to keep the meat moist during cooking.
Home-style Minced Beef Wrapped in Wild Betel Leaf
My mom and grandmas' very own recipe
Ingredients (for 4 generous serves as part of a rice meal)
500g beef steak, coarsely minced using food processor or done by hand
1 spring onion (scallion), finely chopped
1 bunch of wild betel leaf, leaves picked, cleaned and dried
1-2 tbsp fish sauce (*)
1 tsp sugar (optional)
Pinch of salt (or to taste) & a generous amount of ground white pepper
1 small egg
Oil for shallow-frying
Method
Marinade the beef with fish sauce, salt, white pepper. Add in the egg and 1 tsp of finely minced betel leaves. Thoroughly combined. Leave for 15 mins.

Using the largest wild betel leaves, wrap the meat and roll up. You can see the pictorial here. (Scroll down to the middle. The page is in Vietnamese).

Pan-fried in hot oil until crisp on both sides and cooked through. Serve warm with rice and Vietnamese dipping sauce if desired.
(*): fish sauce varies in taste, so use accordingly.
Variations
Add some Chinese five-spice powder or finely chopped lemongrass/garlic to the marinade mixture.

For vegetarian option (my grandma's way), crumble well-drained firm tofu and use this in place of the beef.