>> Saturday, May 05, 2007

Cauliflower is one of my most favorite vegetables as a child. But growing up, I often regard it as bland and uninteresting. I normally buy cauliflower, not knowing exactly how to cook it well. And it will be just stir-fry, bake or steam. Sound boring, doesn't it?
But my thought changes when I try a new recipe for a cheesy and creamy cauliflower soup. I realize the reason why my previous attempts to make cauliflower soup failed – I didn't braise the vegetables long enough to bring out its beautiful natural sweetness. It's better to take it slow for the full flavors to develop. The cheddar cheese, then, adds a beautiful creamy final touch. I particularly like the addition of mustard seeds since they lend an interesting contrast to the creaminess and sweetness of the soup.
This recipe is from an article in The Baker's Companion which features different combination of bread and soup. The bread accompanied this smooth and creamy soup is swirl tomato bread (recipe coming up), which is not only easy but also very tasty. The combo is excellent and has become my new winter favorite…
Just a note to the recipe. If you don't like cheese (remember the recipe calls for strong cheddar cheese), omit it. The soup is still creamy. But for me, who love cheese, its addition is a must for a complete taste.
This is my entry for Weekend Herb Blogging, which returns to Kalyn this week. The featured vegetable is of course cauliflower.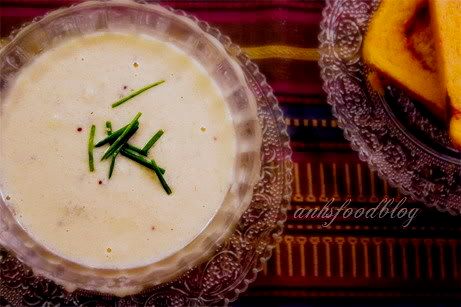 Creamy and Cheesy Cauliflower Soup
Adapted from The Baker's Companion
Ingredients (for 4-5 generous serves)
Butter, as needed
1 medium onion, peeled and diced
2 tbsp flour
3 cups chicken/veggie broth
1 pound fresh cauliflower florets
2 tsp small black mustard seeds
1 ½ cup light cream (or evaporated milk)
About 1 cup (or to taste) sharp cheedar cheese, shredded
Method
Cook the onion with butter until soften- about 5 mins. Stir in flour, then the broth, cauliflower, a pinch of sea salt and mustard. Let the soup simmer for 25 mins over very low heat or until the cauliflower is very soft.
Let the mixture cool a little then process in a blender or food processor.
Return the soup to the pot. Stir in the cream/milk and cheese. Adjust seasoning. Cook very gently until the cheese just melts. Serve the soup hot. Garnish with fresh chives.