>> Wednesday, May 09, 2007
One of many symptoms of being a foodie is that you never have enough of cookbooks or food magazines. Your bookshelves are full of cook-related stuff. No more spaces, they start to invade your desks, kitchen tables, bed side etc. Everything is adding up, but you still want more. Even when you decide that you will stop, a simple review from fellow bloggers or a magazine is enough for you to start searching in Amazon or your local bookstores. Before you know it, the purchase has been finalized and the new book(s) arrives. You may feel a bit guilty but the joy of possessing another cookbook surpasses all. And when the new recipes turn out well, you are more than pleased. Then, before you cook more from the book, a new one is purchased and appears in your house. You cannot help it. All is because you are a foodie!
Does it sound like you? I admit I buy new cookbooks quite often and these are besides the normal food magazine subscriptions. I am trying to slow down but it is not really effective. Sometimes I just fall in love with the book instantly and can't help but buying it. The perfect example is this gorgeous book called French by Australian chef Damien Pignolet.
This book is the work of a lifetime. Everything is written in great details with a lot of explanations. Damien Pignolet is like a compassionate teacher, explaining all the basics of French cooking techniques and how he has applied those using Australian ingredients. Unlike nowadays celebrity chefs with the usual phrases of "quick and simple" or "the best (…)" or "fabulous", Damien tells us the art of slow cooking with a great emphasis on techniques and methods. In his words - "It's not just the recipe, cooking is much more than that." I can go on telling you how much I treasure this book. The photography is of top quality. The text is excellent. And most of all, it is the author's attitude and compassion that shine through the whole book.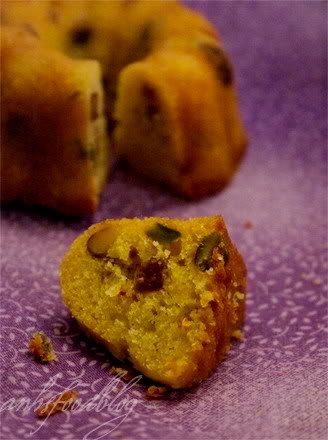 I have tried the first recipe, a simple one for pound cake. The technique here is quite different to traditional way of creaming butter and sugar then adding other ingredients. Borrowing Rose Levy Beranbaum's techniques, this method is said to be simpler and "overcome the potential curdling of batter".
The following recipe is very much similar to Damien's. I have added dry figs for a contrast in texture and reduce the amount of sugar slightly. I have also baked them in individual cake tins instead of the 1 litre loaf as suggested. The cake is really beautiful – aromatic and rich. Do use the best saffron & butter you can find. For me, there is no substitution for Lurpak in this type of cake.
Pistachio, Fig and Saffron Individual Cake
Ingredients (yield 5 individual cakes)
45 ml milk
½ tsp saffron strands
3 large eggs, at room temperature
½ tsp of vanilla extract
150g plain flour, sifted
120g castor sugar
¾ tsp baking powder
¼ tsp salt
180g soft unsalted butter, cut into pieces
60g pistachio, ach cut into 3 pieces
3 small dried figs, cut into small pieces
Method
Preheat oven to 175C. Grease your cake tin(s).
In a small saucepan, warm the milk with the saffron to blood heat. Set aside for 5 mins to cool. Lightly beat the eggs and vanilla then add the saffron mixture. Mix well using a spoon (the stamens tend to caught up in a whisk).
Put the flour, sugar, baking powder and salt in a bowl. Combine. Add butter and half of the egg and milk mixture. Mix at medium speed for 1 min. Scrape down the sides of the bowl. Add half the remaining mixture, beat for 20 secs. Scrape down again, pour the rest of the egg-milk mixture along with the nuts and figs. Mix for another 20 secs.
Transfer to the greased pans. Gently tap on the bench to dispel any air bubbles. Bake until done (depending on the size of the tins. Mine took about 20 mins. The loaf may take 40 mins).
Rest on a wire rack for 10 mins before turning out onto the rack to cool completely.
***
This post is my entry for Weekend Cookbook Challenge. The theme of this month is Something New and hosted by Sara of I like to cook.