>> Thursday, May 31, 2007
If I present you this seafood dish, will you eat it?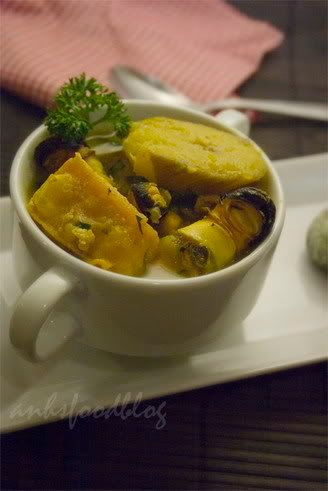 If then, I tell you that the dish features snails, how's your reaction?
I know snails can be intimidating for a lot of people. But if you can get over the "fear", snails are the few best things you should taste. Having said that, sea snails are the only types I can handle so far. And they are my favorite seafood. One day I will gather some more courage and tackle the famous helix aspersa (brown garden snail).
My knowledge about cooking (freshwater) snails is limited to Vietnamese cuisine. The Vietnamese believe that snails have cold properties so they should be balanced with "hot" ingredients in dishes. Most often, snails are boiled with pomelo leaves or some Chinese herbs and served with a variation of Vietnamese dipping sauce where a lot of ginger is used. It is a very popular snack for the local during winter time. Northern Vietnam also has a really lovely snail noodle soup, which is as popular as pho.
But the best snail dish I have ever eaten is the one made by my mother. It's sort of a stew that uses fresh herbs, green bananas (or plantains), fried tofu, some meat and one crucial ingredient – fermented rice residual (dấm bỗng or mẻ). This residual has the properties of rice vinegar but a lot milder and sweeter. Sadly, it's almost impossible to find this overseas. However, I have cooked this dish successfully using verjuice. It works beautifully taste-wise but still lacks the special fragrance of the fermented rice residual. In Australia, I have used periwinkle to replicate my mother's freshwater snail stew, which works well. But if you have a chance to travel to Vietnam, do try the local freshwater snails. They are simply the best!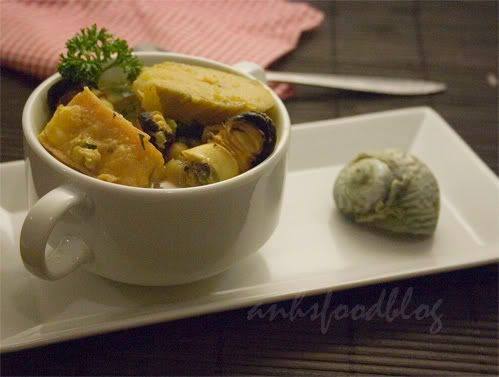 Sea Snails with Green Bananas and Tofu (Ốc nấu chuối đậu)
The amount below is estimation only
Ingredients (for 4 serves as part of a rice meal)
1 kg sea snail or periwinkle
100g ginger, sliced
200g chicken or pork meat
3 medium green bananas or plantains
1 tsp turmeric powder
½ tsp shrimp paste
2 cloves garlic, peeled and minced
30g shallots, peeled and minced
100g (or more) fried tofu puffs, cut into bite size
4-5 tablespoons verjuice* (or to taste)
1/2 tsp rice vinegar
20g Vietnamese Perilla (tia to) or Thai Basil, leaves picked and shredded
Fish sauce, to taste
4 cup chicken stock
Oil, as needed
Method
For the snails: soak in water that has been used to wash rice for 8-10 hours. Drain. Cook in a lot of water and ginger – boil for 10 mins. Leave to cool and used a pin to pick the snail meat out. Marinade with ½ tsp shrimp paste and set aside.
Peel banana skin, cut into 2 cm slices and soak in acidulated water to prevent darkening.
Cut the chicken/pork meat into small pieces. Marinade with some fish sauce.
Heat some oil in a large saucepan, add in minced garlic and shallot. Stir until fragrant and add the meat. Next, add the green bananas, turmeric powder, 3-4 tbsp verjuice, rice vinegar and a bit of fish sauce. Add chicken stock, bring to the boil then simmer for 15 mins or until the banana is nearly cooked. Add the snails and tofu. Bring to the boil again. Check seasoning. The stew should be lightly sour.
Just before serving, re-heat the stew. Add in shredded Vietnamese Perilla or Thai Bail. Serve hot with rice.
***
This post is my contribution to Bron's WILD FOOD - Edible Reptile. Please check her roundup for some exotic and wild dishes later on!