>> Sunday, June 17, 2007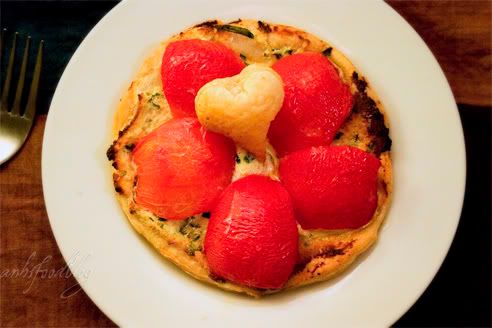 For the last few days I have waked up to a wet, cloudy and gray weather. Perhaps my memories are not so accurate, but I do feel that this year winter is colder and wetter. This results in more soups and stews, and less jogging. I'm still struggling to wake up early and go jogging in the cold and wet weather. Perhaps it's time for me to substitute some outdoor activities with some indoor actions like going to the gym again for example…
Anyway, back to food. I made these tarts a few days back when the holiday mood was in the air, and I didn't feel like cooking much. It was incredibly quick and easy to assemble, and tasted nice, too. The ingredients are something you can always find in my pantry – puff pastry, fresh ricotta cheese, vine-ripened tomatoes and some herbs. I am always a big fan of tomatoes, and thanks for the availability of the vine-ripened varieties in the market; I can still enjoy their lovely tastes even in the midst of winter.
And using herb of course is a special bonus. I normally use basil to pair up with tomatoes, but this time I have opted for something different – chives. I generally do not use much chive in my cooking except for garnish, but its mild onion flavors does go well with ricotta and tomatoes in these individual tarts.
A pretty, delicious and rather healthy tart for lunch, what can I ask more for lazy lunch?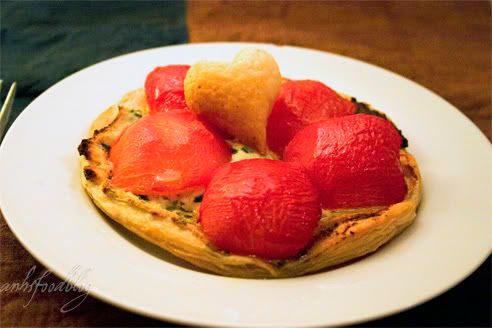 Individual Tomato Tarts with Chive Ricotta
Inspired by recipe from Delicious Magazine
Ingredients (for 4 serves)
5 vine-ripened tomatoes
200g fresh ricotta (buy from your deli, not the packaged one)
1/4 cup finely chopped chive

2 sheets puff pastry, cut into four 12cm circles
A little sugar (optional)
White truffle oil, to drizzle
Method
Preheat oven to 190C. Line a baking tray with baking paper.

Cut a small cross in the base of the tomatoes. Blanch in boiling water and peel. Quarter and remove seeds. Toss the tomatoes with a little sugar, if your tomatoes are not at their best.

Combine ricotta and chive, season well with salt and pepper.

Place pastry rounds onto the baking tray, prick with a fork. Divide ricotta mixture among the tarts round, spread to the edges.

Place 5 tomatoes 'petals' on each tart.

Bake for 18-20 mins or until the pastry is puffed and golden.

Drizzle with white truffle oil and serve immediately.
***
I would like to submit this post to Weekend Herb Blogging. Created by Kalyn, the host of this week is Rachel's Bite.