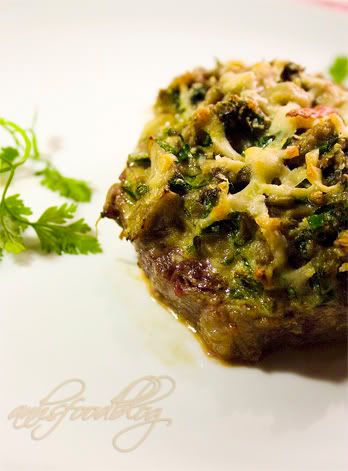 Holiday is always good especially when you can spend time with your loved ones! My family visited me for the first time in Australia. Since my parents´ annual leaves were limited, they only visited Sydney and Melbourne. But everything was so good, even the weather was kind. When we were in Sydney, it was mild with some beautiful sunshine. That made our trips to Blue Mountain and Canberra more enjoyable. The highlight of our stay in Sydney was to climb the Harbour Bridge and admire the view of the beautiful harbour, Sydney Opera House and the city in brilliant sunlight. It was so spectacular and beautiful that you just fell in love with Sydney all over again… Our stay in Melbourne was also very pleasant, but I will tell you about it another time.
Now back to the normal routine. The dish you saw above was the first proper meal I cooked after the holiday. It must be the weather effects, but I do crave for red meat quite a bit lately. So a medium, pink and juicy steak was somewhat irresistible.
What makes this dish special is the gratin of mushroom on top of the steak. It is a clever interpretation of the traditional steak and mushroom sauce. The recipe is from a well-known chef, Gordon Ramsay, who is my current favorite TV character (together with House, if you ask). It is an almost perfect dish – the creamy and herby mushroom goes very well with the tender and juicy steak. It is full of flavors, unlike those dull steak and chips which I disliked. However, I think some additional sauce will be lovely to bind all the ingredients together. Something like a stock reduction or gravy will be good here.
Served with some roasted potatoes and a green salad, you will have a comfortable dinner in the midst of the cold and wet winter.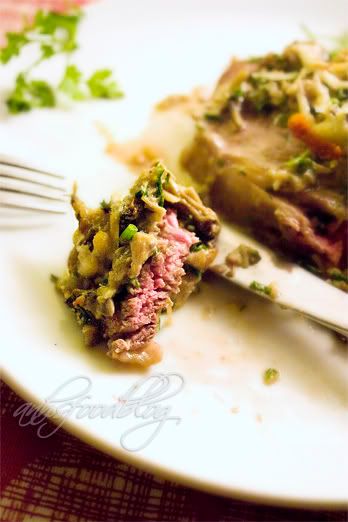 Beef Fillet with a Gratin of Wild Mushrooms
From this book
Ingredients
1 shallot, finely chopped
1 garlic clove, finely chopped
4 tbsp olive oil
200g wild mushroom, finely chopped
1 tbsp each of finely chopped parsley, chervil and chives
4 tbsp double cream (35% milk fat), whipped till soft stiff
1 egg yolk
4 fillet steak, 180g each*
2 tbsp freshly grated parmesan cheese
Sea salt and black pepper
Method
For the topping: gent;y sauté shallot and garlic with 1 tbsp olive oil until softened. Add a further 2 tbsp olive oil, and sauté mushroom over high heat for about 7 mins. You need to stir the mushroom frequently. The mixture should be quite dry at the end. Transfer to a bowl. Season & add herbs. Cool completely.

Fold the whipped cream and the egg yolk into the mushroom mixture. Cover and chill.

Brush the steak with some olive oil. Heat a nonstick pan until very hot. Seared the fillet all over. Remove and leave to cool.

Preheat oven to 220c. Close to serving, put steak on a baking tray and top up with mushroom mixture. Sprinkle with parmesan. Cook, uncovered for about 5-8 mins or until the topping is golden. Serve immediately.
(*): In the book, Gordon used steak with 4cm high, which makes a perfect presentation.
(*): I don´t use steak which has been frozen because they contain a lot of water. It´s best to buy steak from a good butcher, store it in the fridge and cook as soon as possible.