Most of you may have heard of a group called
The Daring Bakers
, which consists of baking enthusiasts in the blog world. Each month, there is a baking challenge for every member to accomplish. These are real challenges that perhaps only the very daring home bakers will take on. Am I exaggerating too much? Not at all! Proof: please visit all fellow daring bakers and see for yourself!
Anyway, I am proud to be included in this month challenge, which is hosted by the talented Peabody of Culinary Concoction. She has chosen a marvelous challenge for all of us – A Strawberry Mirror Cake. Truth to be told, when I first read about this during my holiday in Sydney, I almost fainted. I used to have very bad experience with any type of sponge cake, let alone a mousse cake with the mirror topping. The recipe did sound long and complicated, I wasn´t sure if I was ready for it…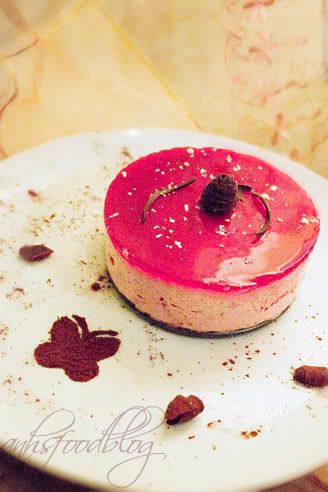 But then, after the hectic at work and study was settled, I did find some time to make the cake. It was done mostly at night over three days. Most of the time, however, was for the cake to settle in the fridge.
Contrast with my worry, the sponge cake itself turned out all right. Reading the instructions and tips from other daring bakers really helped (thanks guys!). After the cake was done, everything else was pretty smooth. The Bavarian cream set wonderfully and so did the mirror topping.
However, I did make some mistakes during the assembling process. Adapting and scaling the recipe to fit my mini ring, I miscalculated a little (my work involves math you know?) and ended up with a lot of leftover Bavarian cram. But the strawberry cream was so delicious that I and my flatmate didn´t waste a single bit. We had it as filling for our pancakes and it was marvelous!
<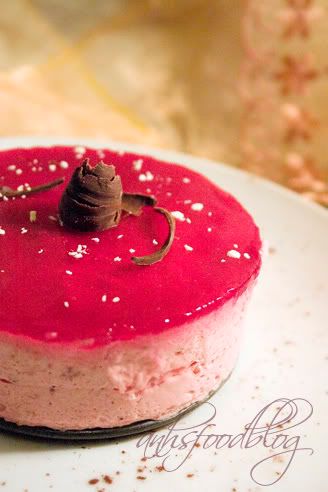 I am really happy with this cake. Firstly, it is so pretty! Secondly, it tastes fantastic. The flavour of strawberry really comes through, providing a very refreshing taste to the mousse. This would be a perfect choice for summer party.
You also have noticed that I served my cake with some dusted cocoa powder. Initially, I intended to make some chocolate sauce instead. However, the sauce may be too rich and sweet for this. Pure cocoa powder is much better choice. It gives a light contrast and lifts the flavors of the whole cake without overpowering the fruitiness. There are pieces of dark chocolate here or there to tease the palate a little, too.
If you are looking for the recipe, please head over to Culinary Concoction (I´ll link to the recipe when Peabody posts it).
Please don´t forget to visit other daring bakers´ blog to see their showcase of this marvelous cake. You can find the list of all Daring Bakers
here.