The pink blossoms definitely give a wonderful touch for my photos in this post. Aren´t they just so pretty and elegant?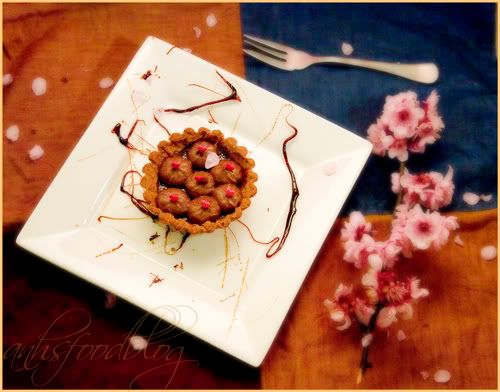 But the subject of this post is not flowers but another challenge set by The Daring Bakers! This month test is set by two talented members – Veron and Patricia. These girls really know my heart since they have chosen something very rich, buttery and chocolaty for us – Milk Chocolate and Caramel Tart.
The recipe for the tart might sound easy, but Veron was so true to tell us to "read between the lines". With a rather brief instruction, all my past tart-making experience came handy and helped me to avoid certain disasters. Nevertheless, this challenge still provides me with new lessons in baking.
First lesson: experience is important!
The major challenge of this tart is to make the caramel layers. The recipe calls for `the dry method´ of making caramel, which means melting and caramelising sugar. The alternative method, which also includes water and corn syrup, reduces the chance of burning the sugar.
The dry method is good for me as I have been making caramel for this famous Vietnamese dish since childhood. This skill became handy as I proceeded through the recipe. Personally, I prefer the dry method better because it is quicker and tends to produce deeper flavours.
How I love the beautiful shiny caramel syrup here?
And now,
the second lesson: your experience is not always right! Read the recipe carefully and pay attention!
This lesson came along when I decided to make some decoration for the finished tarts. I pictured a lovely sugar cage covering my lovely little tart. With that in mind, I searched for the recipe in one of my trusted baking books. You see, making sugar cage requires melting the sugar with syrup and water until candy stage. Having passed through the caramel making stage, I was confident that this would be easy to do.
But no, no, no! I nearly burnt the sugar and my pot because I forgot to read the final steps carefully. Worse, the melted sugar was everywhere on my kitchen bench and it took sooooo long to clean the whole things up. So as a result, I ended up with something not quite as expected. See the messy sugar decoration on my plate? That was all I got after nearly burning the kitchen down.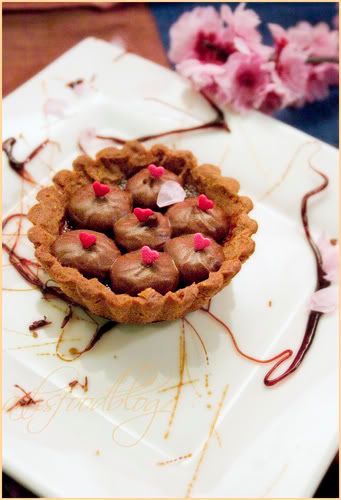 What a baking day! However, I am quite pleased with then end results. The crust is very light and nutty. I omitted cinnamon from the original recipe since cinamon for me doesn´t work with chocolate. The caramel layer is really lovely – dark and luxurious. It goes quite well with the milk chocolate mousse on top.
Overall, the tart is on the sweeter and richer side so it is best to enjoy in small portion with a cuppa. And milk chocolate works here since it does not overwhelm the caramel flavours. Nevertheless, I might try to use dark chocolate next time to see how it goes.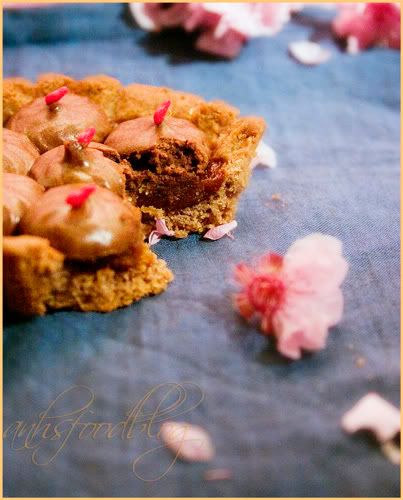 Here is the
link
to the recipe if you wanna give it a try. Meanwhile, don´t forget to visit other Daring Bakers blogs to see their marvelous showcases of this tart. The list of DB members can be accessed from
here
.