This noodle soup is one of my ultimate comfort food. Really.
It all started from my childhood when my parents used to make a similar dish in the weekend for us. That was the simplest kind of noodle soup you could think of – an elegant version of instant noodle. In fact, we did use instant noodle at times but threw away the MSG loaded seasoning. For the broth, water or leftover stock was used. But the other ingredients were normally fresh. Thinly slices of beef from a trusted butcher and a bunch of Asian greens from the morning market were the must have. And just with those simple ingredients, my mom cooked up one of the most nourishing dishes I have known.
The key to this noodle dish is simplicity. The Vietnamese tend to like clear and subtle taste. While greasy and spicy food can be enjoyed occasionally, we all turn back to simple dishes for our daily meals. That preference for food can be reflected here. What we have is noodle in clear both, some meat and lots of green vegetables. You can think of the dish as the homemade simple alterative for pho, but in reality, most noodle shops in Hanoi would sell this, too.
I always use a typical Asian vegetable for the dish. If I am not mistaken, it is called Chopsuy Green or Vegetable Chrysanthemum in English. The leaves have a lovely aroma which pairs very well with meat. You should come across them when eating steam boat in Chinese restaurant. However, any other type of Asian greens can do. I sometimes even use broccoli quite happily.
As for the beef, cooking it lightly in the broth just before serving helps to flavour the soup and also prevent the meat from being overcooked.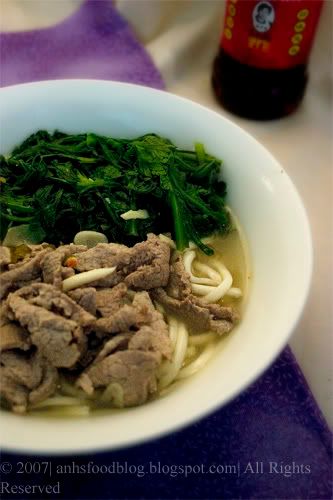 Noodle Soup with Beef and Vegetable Chrysanthemum
I never really estimate the amount of ingredients when cooking this dish. So please use your judgement.
Ingredients (for about 3-4 portions)

Noodles of your choice, choose enough for 3- 4 portions. 100g/person is the standard size
4 cups water or leftover broth
200g beef fillet, thinly sliced across the grain
1 tsp each finely chopped garlic and ginger
1 tbsp good quality fish sauce
1 bunch of Vegetable Chrysanthemum or other vegetables of your choice
Seasoning, to taste
Method
Marinade the beef with garlic, ginger and fish sauce.

Pick leaves from Vegetable Chrysanthemum. You should have about 200g left.

Prepare the noodles according to package directions. Divide among serving bowls. Keep warm.

Bring stock to boil. Blanch the veg until just cooked. Take out and divide among serving bowl.

Return the stock to boiling point again. Add the beef and let the stock simmer until the beef is just cooked (this takes only 1 min). Quickly check seasoning. Ladle the hot broth and beef over the noodle and veg. Add some freshly cracked pepper. Serve immediately with some chilli sauce and lime juice if desired.
***
I am bringing this dish to Presto Pasta Night, hosted by
Ruth of Once Upon A Feast
. Ruth is celebrating 6 months of this event this week, so head over to her blog on Friday for fabulous pasta entries!