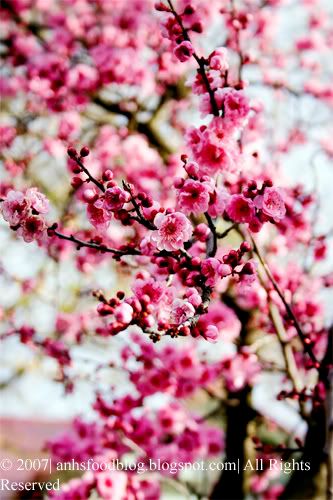 The First Sign of Spring

Don´t you admire such beauty?
And now, it´s now for some memes. But firstly I have to say a sincere apology to all of the lovely bloggers who have tagged me for several memes. My time for blogging is limited lately, so I hope you all understand for my slow reply…
For this very post, I am replying two memes – `8 random facts about you´ and `The Fantastic 4´. If I remember correctly, I have been tagged by Myriam, Arfi, Wendy and KJ. And yes, I still have some other memes to complete, but it´ll be for another coming post…
Tracking down my memory lane, here are the things I come up with…
4 jobs I´ve had in my life
I have never had a full-time job. But I do hope the following counts as job somehow…
#1 Nanny: I used to take care of my sister and cousins during summer holiday when I was 14-17. Duties included preparing lunch and playing with all of them. Kids can be really naughty, but I love being around them!
#2 Student: This is the longest `job´ that I have had!
#3 Teacher/Assistant lecturer/tutor: Teaching is something I particularly enjoy. However, my idea of teaching and education has changed a lot ever since I start teaching seriously in university. For some reasons, I feel the real lack of teaching value in some places, and that does disturb me.
#4 Waitress: for a very short period but totally enjoying since I learn a lot. And the people I met there were a lovely crazy bunch!
4 places I have lived
I don´t think I can come up with 4 places as yet. I grew up in Hanoi, came to Melbourne for study and have lived in Melbourne mostly ever since.
4 places I have been on holiday
#Beijing: A place with adorable and timeless historic value. I would love to vist Beijing again for a longer time.
#Bangkok: Lovely people, lovely food and traffic jam! Oh, the orchids there were nice!
#Singapore: where I first tasted and fell in love with durian!
#Ho Chi Minh City: my beloved energetic southern city.
4 of my favourite foods
#Noodles & Pasta: I can live on these forever
#Asian Greens: I can't live without these. My meal can't complete without some greens.
#Bread & Pizza: Right, I am a big carb person.
#Chocolate: one of my ultimate weakness.
4 places I would rather be right now
#Back home in Hanoi with my parents and sister!
#In a small café near Hoan Kiem lake and enjoy a small cup of Vietnamese coffee with all my friends.
#In some café along Ormond Rd then a long walk along Elwood Beach with my camera.
#At home, with some light music, a cuppa and a book.