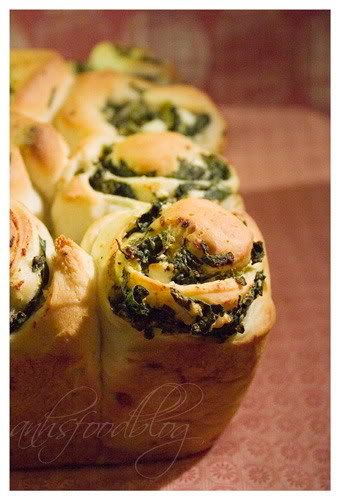 Lis from
La Mia Cucina
and Ivone from
Cream Puffs in Venice
are hosting a lovely event called
La Festa al Fresco
. For this event, you are required to make something from fresh local produce. And I have chosen some lovely English spinach and feta cheese from my local market and turned them into wholesome savory bread to participate.
The idea of for this bread comes from the regular spinach and feta (or ricotta) fillo pastry which is a popular vegetarian option in casual café or bakery here in Melbourne. Frankly, I have hardly been impressed by these (except for the thin crust variety in A1 Bakery in Brunswick). I doubt that these roll were made with much care and from fresh ingredients. In fact, they taste like defrosted pastries to me. But the thought of spinach and feta is so lovely that I decide to make my own version.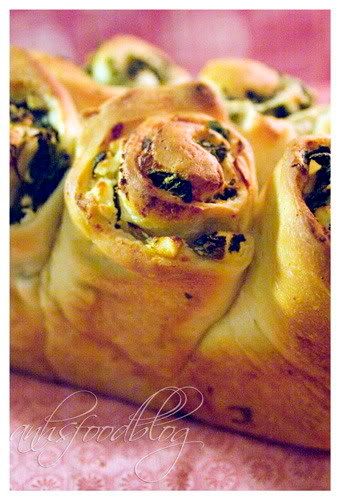 Since I want something more substantial, I decide to go for bread. The dough recipe is a long-time favorite of mine, which produces lovely soft crumbs. The filling is kind of standard with spinach and feta, but it is made from fresh ingredients! I also add some zesty note by using lemon juice and zest.
And yes, this spinach and feta loaf tastes really good. Being a `pull-apart´ loaf, it is best to shared around. And I do just that! I share around with some friends and they all love it. I guess it doesn´t take much to convert someone into a fresher diet, especially when the results are always tastier.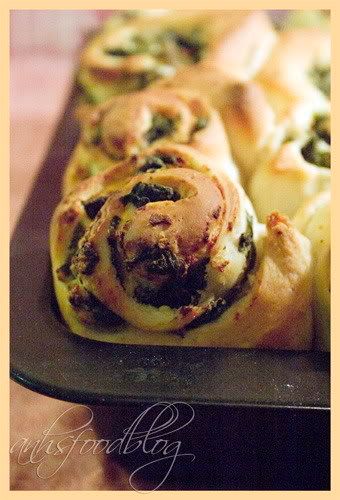 Zesty Spinach and Feta Bread
Inspired by different sources
¾ cup water
45gram butter, at room temperature
1 tbsp sugar
1¼ tsp salt
2 tsp instant yeast
3 cups unbleached plain flour
Filling
1 bunch fresh English spinach, leaves picked and washed thoroughly
100g feta cheese, crumbled
Zest of 1 lemon, finely grated
1 or 2 squeeze of lemon juice, to taste
Seasoning, to taste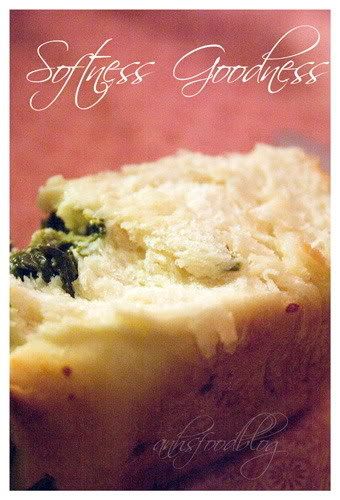 Method
1. Knead together water, butter, sugar, salt, yeast and 3 cups flour until the dough is smooth and soft. Place in a greased bowl and cover. Let it rise until doubled.
2. Filling: blanch the spinach leaves in hot water briefly. Drain and set aside to cool. Roughly chop then mix with the crumble feta cheese. Add in the lemon zest and lemon juice. Check the seasoning and adjust to your liking.
3. Preheat oven to 350F (170C).
4. Gently lift the dough out of the bowl. Divide into 4 portions. Deflate each portion lightly into a rectangular, add the filling and roll up. Cut into two pieces. Repeat with the remaining dough. (You should have 8 halves in total).
5. Arrange the dough, cut side up, into a loaf pan (8 ½ x 4 ½ inch). Proof for another 30-40 mins until the bread rises just above the pan. Bake in the oven until golden and done, about 35-40 mins.