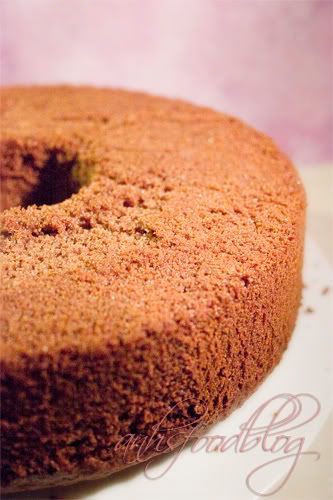 No, it this not another cake since it is a chiffon cake. What´s more… it´s a cocoa chiffon cake.
If you have read my blog for a while, you may know that I love chocolate a lot. I have also made a lot of chocolate desserts, but never really tasted a chiffon cake with chocolate flavour. That is why when I get a new baking book, The Essential Baker, the recipe for a cocoa cake appeals to me straightaway.
Chiffon cake is always a favourite of mine. It may be strange that a butter lover like me actually love lightness and moistness of a chiffon cake. Developed in the 1920s as a crossbred between butter and angel food cake, chiffon cake became very popular in the 1940s when the recipe was sold to General Mills by the creator.
For me, this is definitely the cake that would suit Asian palate. It´s not buttery and rich, but lightly sweet and moist. And Asian people love soft cake and bread so this is spot on. In countries like Indonesia, Singapore or Malaysia, the pretty green pandan chiffon cake is very popular among the local. If you haven´t tried pandan chiffon cake, you really should! A reliable recipe can be found here.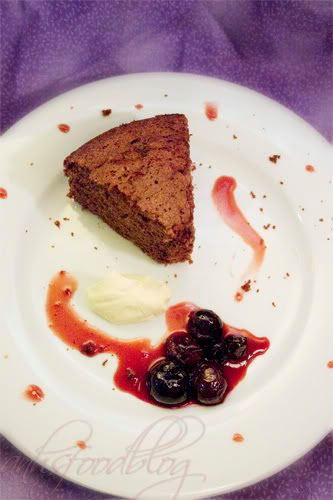 Now, back to my cocoa chiffon cake. A good cake starts out with good quality ingredients. And I have chosen Koko Black cocoa powder, a local brand, for my cake. And as usual, Koko Black chocolate products never fail to impress me with the rich dark flavours. It´s just simply perfect.
I love this cocoa chiffon cake a lot. And so do my friends. This is perhaps not the most luxurious chocolate cake you may have, but it is certainly one of the best! So if you are in the mood for something chocolaty but light in texture, please give this recipe a try!
I have served my chiffon cake with crème fraîche and some cherries juice. To make the cherry juice from frozen cherries, simply heat it up with some lemon juice, water and sugar. It´s really lovely with the cake. However, you can just eat the cake plain to appreciate the special soft and moist feature of a chiffon cake.
Recipe from
here
Ingredients (for a 10-inch tube pan with removable bottom)
Mixture A
¼ cup unsweetened cocoa powder
¼ cup boiling water
1 ½ tsp vanilla extract
1 ¼ cups cake flour
1 tbsp baking powder
1 ¼ cup castor sugar
¼ tsp salt
½ cup unflavoured veg oil (Corn oil is good here)
6 large egg yolks, at room temperature
Mixture B
6 large egg whites, at room temp
½ tsp cream of tartar
½ cup castor sugar


Method


Preheat oven to 325F.
Mix the cocoa powder with the boiling water to b3ecome a paste. Let cool and blend in vanilla. (Stir frequently to prevent it from skinning).
Sift the flour and baking powder together into a bowl. Add sugar and salt. Toss to mix.
Make a well in the centre of the flour, pour in egg yolk, oil, and cocoa paste. Mix well to combine.
Whip the egg whites until frothy. Add in cream of tartar. Slowly sprinkle sugar and continue whipping until the egg whites hold glossy and firm but not stiff peaks.
Add ¼ of the egg white into the flour mixture, mix in to lighten it. Then, gently fold the egg white into the chocolate mixture in 3 stages. Blend well but take care not to lose the air bubbles.
Transfer the mixture to the ungreased tube pan. Even out the top. Bake for 1 hour or until the cake is done.
Remove the pan from the oven and invert it over a cooling rack onto its feet or over a thin-necked bottle. Let the cake hang to cool completely.
Once the cake is cool, use a thin-bladed knife to run around the edge and the inside to help release the cake from the pan. Push the bottom of the pan up, away from the side. Gently run the knife around the tube to release the cake.