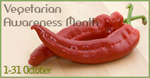 My friend Margot from Coffee and Vanilla is hosting an event called Vegetarian Awareness Month throughout October. For this event, you can either post a vegetarian dish or write a detailed post about vegetarian food. More details can be found on Margot´s site.
For this event, I have decided to make a very simple vegetarian appetizer. This is also my idea for my next gathering, too. Basically, I want something tasty without any dairy products or things like onion & garlic etc. It wasn´t easy to do, but I have finally come up with the Eggplant Roll with Spiced Potatoes & Enoki Mushrooms. I learnt how to grill eggplant from a comprehensive post by Kalyn. Grilled eggplant is so much healthier than the deep-fried version. Yet, the taste and texture is still very beautiful – smooth and silky. To match the texture of eggplant is the spiced mashed potatoes. And enoki mushrooms are used to give the dish a refreshing taste. And really, enoki makes great garnish, too!
I don´t have a precise recipe. But here is the estimation:
1. Grill 1 eggplant – cut into 1cm slices lengthwise. Please follow Kalyn´s instruction on grilling.
2. Boil 2 medium potatoes then mashed them (butter and milk are optional. I used soy milk and olive oil here).
3. Fry your favourite spices (I used cumin powder, coriander powder and some mustard seeds) in a little oil to release fragrance. Add the mash potatoes, stir well. Season with salt and pepper.
4. Spread the potato mixture & enoki mushrooms on each eggplant slices and roll up. Serve warm or at room temperature. Garnish with some green herbs (I used wild fennel).
Overall these rolls are nice to eat. I think the presentation is lovely, too. Definitely something I will be making for my next party!