Now this is the new idea for my blog. I have felt much uninspired in my cooking adventure. Ya know, laziness is certainly a factor. So, here it is, the new challenge for my new year: I will find a cooking show, old or new, review each episode and cook/bake something out of it.
Sound good? Of course the major requirement is the show is interesting enough to sustain my interests. At the moment, it is Poh´s Kitchen, produced by ABC . Onto the first episode of the show, which premiered last Wednesday. (Scroll down for information on the series and where to watch).
This episode is the opening for a new series, and I think the first 10 minutes or so is a bit forced. Basically, it gives a chance for Poh to talk about her art gallery and connection with food. Sounds like a segment of Master Chef to me. *yawn*
But things get better and Poh is much more alive in the kitchen. She met up with pastry chef Emmanuel Mollois . I adore these two together. Poh was quirky and wild, untamed in her cooking approach whereas Emmanuel was disciplined and very French.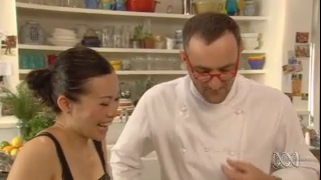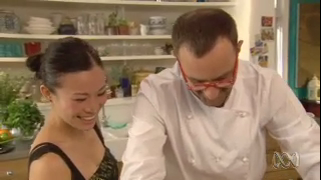 They went for sweet stuff, naturally. Poh put a Western spin on the orange chiffon cake by slicing it in three parts and fattening it up with lots of cream , hazelnuts and chocolate ganache. Emmanuel, on the other hand, turned to a French classic – croissants. Not your normal plain one, but with almond pastry cream (more butter!). If you have to run 30 mins for each plain croissant, I wonder how much harder we have to work out for this version?
Thought on the episode: Poh is lovely. I like her sense and style (her dog is so cute, yes?). The guest chef for this episode is a really good choice, since his sense of humor complements Poh´s style greatly. The editing of the show is not that good but forgivable. All in all, a refreshing cooking show, which brings out the fun of the kitchen.
Recipe: Now, the almond croissants look delicious. I was turned off by the labour intensive work involved though. (Of course, I can just buy ready-made croissants, but I doubt that they will make it to my tummy first before I even reach home). So I chose orange chiffon instead.
Chiffon cake is no stranger for some of us. It is so popular in Asia, especially the green pandan one. Having packed my chiffon pan somewhere, I decided to bake chiffon cake in a form of cupcakes, and filled them with orange blossom scented cream. The inspiration is from Hokkaido chiffon cakes, which were very popular among Asian bakers last year, especially those from Taiwan. They are best served chilled. Excellent on those hot summer days (or anytime, actually).
Recipe note: Use the brown paper cups if possible since they "hold" the cake batter. Remember to bake the cupcakes in a slow oven, so they will not collapse so much after cooling down.
Orange chiffon cupcakes with orange blossom scented cream

Ingredients
Mixture A
5 egg whites (at room temperature is best)
75g caster sugar
Mixture B
5 egg yolks
7 tbs coconut milk
5 tbs vegetable oil
75g caster sugar
5 tbs orange juice
1 tbs orange zest
150g self raising flour, sifted
Mixture C
150ml full cream
2-3 tbp castor sugar
1 tsp orange blossom water
Method
Preheat oven to 150C (not fan-forced).
Beat egg whites with an electric mixer till soft peaks. Add sugar one tablespoon at a time a beat thoroughly. Set aside.
In a separate bowl whisk egg yolks with caster sugar till fluffy. Add coconut milk, vegetable oil, orange juice, zest and self raising flour and whisk until combined. Gently fold the egg whites into the yolk mixture 3 batches.
Pour into cupcake cases (see recipe note). Bake 30-35 mins @ 150C. Test if the cake is done, then cool completely.
Beat cream with sugar and orange blossomwater until soft peaks. Put cream into a piping bag. Use a small knife, cut a cross through the centre of each cupcake, and fill with cream.
The cupcakes are best served chilled.
Verdict: I love the concept of the cream-filled cupcakes. Love the filling. The cake does not collapse, so it´s nice. I am not a big fan of Poh´s chiffon batter, it feels heavier than the normal one I bake before. But it holds up batter in cupcake form, and tastes nice, so I won´t complain much.
Where to watch Poh's kitchen?
~ In Australia: ABC1, 6.30pm every Wednesday.
~ Streaming: the two latest episodes are available here. I am one episode behind on recap, but good things take time!