Happy New Year!!
We are back with the final edition of Delicious Vietnam. Although this blogging event has come to a conclusion, please join us on Delicious Vietnam Facebook page and share your recipes, stories and chit chat about Vietnamese cuisine. (Just a side note: I will be blogging as per usual, with Vietnamese recipes included :))
Without further delay, let's enjoy the feast! You will also find the winners of Indochine cookbooks and Red Boat fish sauce at the bottom of this post.
1 – A recipe for bì cuốn (and accompanying dipping sauce) – Aliette de Bodard

Bì means "pork skin", and cuốn, of course, refers to anything that is rolled. And that's what you get: cooked, shredded pork with pork rinds to give it a nice crunchiness, all wrapped up in a fabulous salad-rich roll, and dipped in nước mắm. Doesn't it sound awesome?


2 – Bánh cuốn with prawn and vegetables (Vietnamese rice rolls) – Blue Apocalypse


Banh cuon is one of my favourite Vietnamese dishes. It's a thin crepe like rice roll, filled with a mixture of ground pork and minced wood ear mushrooms. It's freshly made and should be eaten straight away. I love the lightness of the rice rolls and the delicious pork filling topped with herbs and nuoc cham.
3 – Bún bò Huế – Angry Asian Creations
This… "reminds me of my stepmother. her mother is from Hue and this dish made an appearance regularly at the dinner table. it was not my favorite. in fact, i would usually make a sandwich to eat while the rest of the family slurped their way thru their bowls. like all the recipes in the cookbook i will refer to, food is used to show love, to show forgiveness, to bring home a lost child, and for me, it is home."


4 – Cà ri gà – Vietnamese chicken curry (cà ri gà) – Ginger and Scotch

These days, I make the curry consistency somewhere between a soup and a stew – not too watery and not too thick. If it's too watery, I will add a little corn stach dissolved in cold water to thicken it up. Scotch now loves eating this curry and in a blind taste test, even preferred my own blend of spices to the store bought ones!
5 – Bánh bao (Vietnamese style steamed buns) – The things I eat
Banh Bao is a fluffy, steamed bun of rice flour filled with ground pork, veggies, Chinese sausage, hard-boiled egg, Chinese mushrooms and bits of vermicelli. They are basically awesome because they are easy to eat with one hand. Easiest way is to bite into it, add desired soya sauce, and continue to eat!
6 – Gỏi gà (Fiery Vietnamese chicken salad) – The Hungry Australian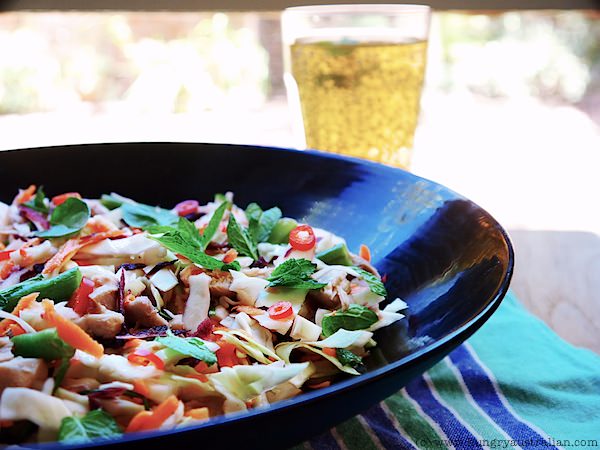 Vietnamese salads always taste so amazing, and they're so healthy and low-fat, too. In fact, I wouldn't be surprised if you burn more calories eating this dish than are actually in the dish. This is even more so if you cut the cabbage too big like I did as your jaw will get a real good work out. (Hot tip: grate the cabbage with a vegetable peeler).
7 – Gỏi hến trộn mít non (baby clams and young jack fruit salad) – rauom
This salad is a study of balancing various tastes and textures: sweetness of baby clams & tartness of tamarind, chewiness of baby clams & softness of baby jack fruit & crunchiness of rau om (rice paddy herb) and rau răm (Vietnamese coriander), rice crackling and peanuts.
8 – Bánh xèo (Vietnamese sizzling crepes) – The culinary chronicles
Bánh Xèo gets its yellow hue from the turmeric and is flavored with coconut milk. Traditionally, Bánh Xèo is filled with pork, shrimp, onions, mung beans, and bean sprouts. And just like chả giò (egg rolls), you wrap pieces of the Bánh Xèo with herbs and lettuce leave before dunking it into Nước Chấm–a fish sauce based dipping sauce. The freshness of the veggies is the perfect balance to the slightly fried crêpe.
9 – Thịt kho (Vietnamese braised pork) – Flavor Boulevard
"…no matter which region of Vietnam we are from and where we are living: the fatty chunks of pork so tender that a plastic chopstick can cut through, the amber sauce, with which the hard boiled eggs are imbrued from yolk to white. The fatty, sweet, and salty pork must be freshened up with the crunchy, sour, cold dưa giá (pickled beansprout)…"
10 – Sườn rang (Vietnamese glazed spare ribs) – Javaholic
Today's dish is a tasteful recipe for spareribs. It has the characteristically Vietnamese combination of salty (from the fish and soy sauce) and sweet (from sugar). I served them with quick pickled beansprouts and carrots, the pickled vegetables a nice counter balance to the richness of the spareribs. The recipe is from Nicole Routhier's The Foods of Vietnam, the first Vietnamese cookbook I ever bought and still one of my favorites.
11 – Kem cà phê (Vietnamese coffee ice-cream) – Phuoc'n Delicious
For this month's Delicious Vietnam, I thought I'd make something to pay tribute to the last blogging event and also to the highlight of my year; this Vietnam holiday. This ice cream encapulates all that is associated with my beloved cà phê sữa đá; it is creamy, sweet and highly caffeinated.
12 – Bún bò Huế (with video of the making)– Ravenous Couples
Spicy, fiery red, and murky, the appearance of bún bò Huế is almost the antithesis of it's better known Vietnamese soup counterpart, phở bò, which is valued for it's clarity and pure clean flavors…
13 – Bánh chuối nướng (Vietnamese banana bread pudding) – A food lover's journey


This banana bread pudding is completely vegan and a breeze to make. No batter to be whipped up, we use up stale sandwich bread sitting on the counter. The bread is soaked in a mixture of coconut cream and brown palm sugar (or dark brown sugar). Then, alternate layers of bread and banana slices are assembled and baked. The result is a caramelised banana pudding that is soft, sweet with a really beautiful aroma of baked banana and coconut.


14 – Bò kho (Vietnamese beef stew) – By Jeroxie
I had Bò Kho a few times in Melbourne and always loved it. I thought I tried to make this for the last edition of Delicious Vietnam. It is very easy and totally a one pot wonder which is great for us. You can simmer it in a pot, cook it in a crock pot or even use the pressure cooker
***
Winners of the giveaways! – generated by random number generator
Two Indochine cookbooks go to: (1) – Alitelle de Bodard and (3)Angry Asian Creations
Two Red Boat Fish Sauce (US residents only) go to: (10) Javaholic and (8) The culinary chronicles
Congrats to the winners! And thank EVERYONE for being such a big part of Delicious Vietnam!!