For Edith,
I happened to own a copy of Elizabeth Chong's Beyond Fried Rice, a very old cookbook. For anyone who doesn't know who is Elizabeth Chong, she is a famous Chinese Chef here in Australia. I think she is quite well-known overseas as well, particularly for the TV show "Tiny Delights". Anyway, having tried several recipes from Ms. Chong, I simply regard her cookbook as one of my cooking bible in home cooking. The recipes are very reliable and tasty. And what I like the best is that she manages to retain the complex flavours of Chinese Cooking. Some "Modern" Chinese Chefs nowadays have gone a bit too far when simplifying the recipe and procedures… Guess I am a bit too fussy, but I just hate to compromise on flavour!
This potato recipe is one of my favourite so far. It is very simple to make and great as a side dish. Note that Chinese (and a lot of Asian) people eat potato dishes as an accompaniment in the meal. I normally serve this with steam rice and some greens.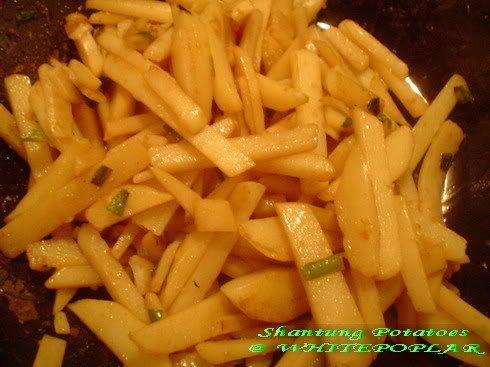 Recipe taken from "Beyond Fried Rice" by Elizabeth Chong

Ingedients
500 gram potatoes
1 hot chilli pepper
1 tablespoon chopped onions
2 tablespoons chopped spring onions
1/2 teaspoon salt
2 teaspoons vinegar
3 tablespoons oil
1 tablespoon light soya sauce
Preparation
1. Peel the potatoes and cut into 5 mm scallop slices. Stack the slices and cut into 5 mm julienne strips.
2. Simmer the potatoe shreds in boiling water for 1 min. Drain. Chop the chilli pepper and arrange with the potato shreds and chopped onions on a plate.
Cooking
1. Heat the oil in a wok, swirling around the sides, stir fry the chilli pepper for 10 sec then chopped onions for 30 secs. Lower the heat and remove the chilli pepper and onions with a slotted spoon.
2. Turn up the heat, add potato shreds and stir fry in hoil oil for 2 mins. Add soya sauce, salt, vinegar and spring onions.
3. Reduce heat, and continue to stir fry for another minute. Lift out with skimmer and drain on absorbent paper. Serve on a heated dish.