One of my assignments at school lately is to write and present about an herb. After hours of thinking and researching, I decided on lemongrass – one of my favourite herbs. I just love the name of this herb in English – lemongrass. In Vietnamese, it is called "cu sa", which I think is less appealing.
Hm, frankly I cannot tell you much about this wonderful herb as yet, since I am still researching on it for my assignment (I will re-visit this wonderful herb after all research has been done!). But from my own experience, lemongrass is used extensively in Vietnamese and Thai cooking. It has a distinct lemony fragrance, which is wonderful in poultry, meat and even seafood dishes. I guess if you are familiar with Vietnamese Cuisine, you will know our famous Chicken with Lemon grass. Another version, less famous overseas but very popular in Nothern Vietnam, is veal/beef stir fry with lemon grass. Both are very yummy with hot rice…
Lemon grass is normally used fresh. To cook, only the white part is used. However, the leaves can be used to flavour stock so use this herb wisely!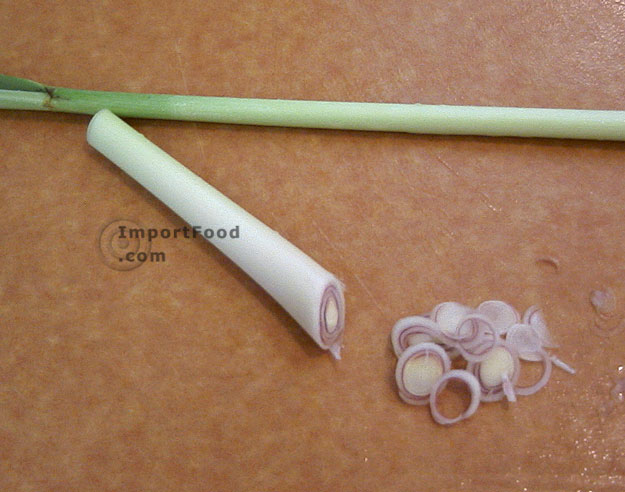 For this week Weekend Herb Blogging, I decide to cook one of my favourite dishes – Five-spice Tofu. Everybody knows tofu is healthy to eat, but it can be very bland. The solution is of course to spice it up. Here I use the Chinese five-spice powder to do the job. Where is the lemongrass you ask? Well, lemongrass is not included in the five-spice powder but in the amazing topping, which I think is the main signature of this dish.
Even though I have already included some salt in the tofu and topping, I still serve this dish with some fish dipping sauce, which is not salty but flavorsome on its own right. Guess this is an old habit of a Vietnamese :P. You can substitute it with reduce-salt soya sauce (add some sugar and a dash of sesame oil for a better flavour). Note that the sauce is not neccessary, so you may not need it at all!

Oh well, here is my recipe for
Five-Spice Tofu with Lemongrass Topping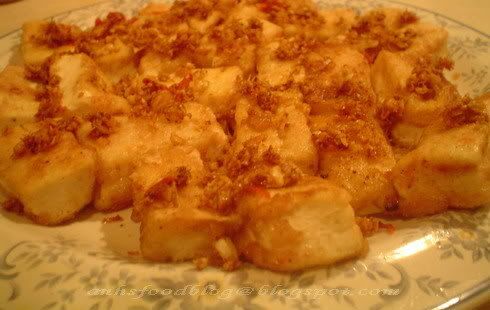 Ingredients
1 box of tofu – I used the 750g box which contained tofu in water. If you get the normal tofu, use about 600 gram
5 tablespoons of corn flour
2 tablespoons of plain flour
¼ – ½ teaspoon of Chinese Five Spice Powder, depending on taste
½ teaspoon salt (or to tatse)
Oil for shallow frying
3 stalks of lemongrass, white part only, minced
3 cloves of garlic, minced
1 small red chilli, minced
Extra ½-1 teaspoon five spice powder
Extra 1 tablespoon of oil
Extra 1/2 teaspoon of salt
1/2 teasppoon of ground white pepper

Preparation
Drain the tofu well to remove excess water. This is an important step which helps the frying process later. I drained it on paper towel for about 20 mins, changing the towels twice.

Cut the tofu to 4cm cube (larger if preferred)

Combine the flour, five-spice powder and salt together in a large plate. Coat the tofu well with the flour mixture.

Heat oil in a non-stick pan till hot, then shallow fry the tofu till golden brown. Set aside, keep warm in a low oven.

For the topping, heat extra oil in the pan till hot. Fry the minced lemongrass, garlic and chilli for about 1-2 mins, until tender and fragrant. Season with five spice powder and pepper.

Spread the mixture on top of fried tofu and serve hot with some soy/fish sauce.
The lemongrass photo is courtesy of importfood.com.
This entry is for Weekend Herb Blogging hosted by 28 cooks.