Who wants to get a pair of chopsticks to "sail" in this banana blossom boat?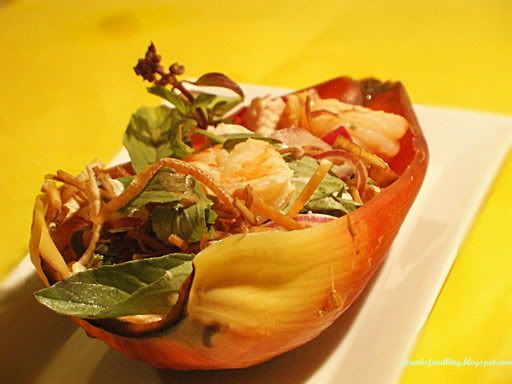 The "boat" is the outer layer of a banana blossom. Click here to see how the banana blossom looks like (I forgot to take the pics). Isn´t it beautiful? And it also tastes great, especially in this salad, which is packed with fresh vegetables and herbs – shredded banana blossom, finely sliced purple onions, chili, Thai basil and a tiny bit of Vietnamese Mint. The dressing is the mixture of fish sauce, white rice vinegar and sugar. This type of sweet and sour taste is extremely popular in Vietnamese and Thai cooking.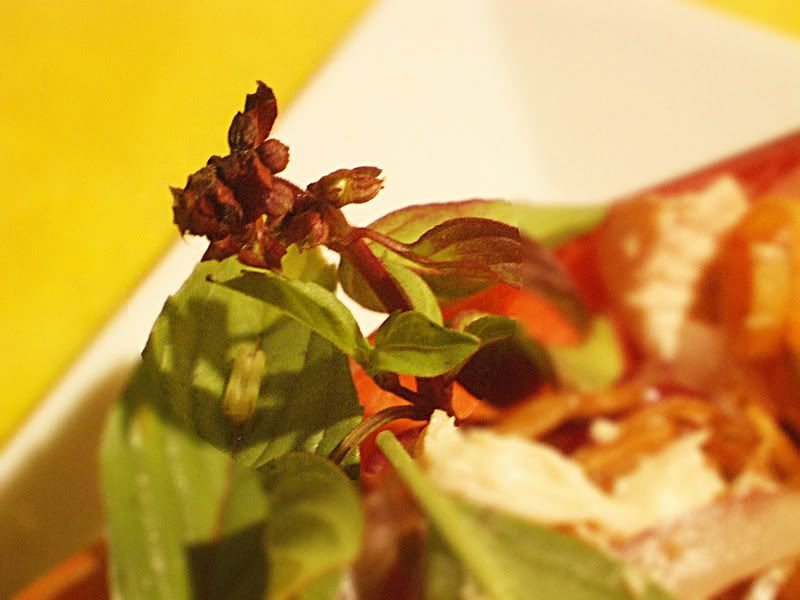 This post is my final entry for Holiday Cooking with Herbs. I have actually submitted two entries for this event, but seeing fresh banana blossom available in the market; I can´t resist making something out of it and share with you all. This is something you can have after Christmas party to make use of leftover ingredients. You can throw in leftover turkey, chicken or prawns. More importantly, the salad is very refreshing and light so you can have a change from all rich festive food.
I was overjoyed eating this dish. It brought back the memories of my childhood when grandma used fresh blossoms from our home-grown banana trees to make the salad. It was incredible since every single ingredient was from our garden – herbs, veggies and believe it or not, my grandparents even raised their own chickens to get eggs and meat!
Read on for the recipe. You can find canned banana blossom at Asian supermarket to substitute. But of course, nothing can really beat fresh veggies and herbs!
BANABA BLOSSOM SALAD (VIETNAMESE STYLE)
You need to prepare 2 bowls of water with some lemon juice to dip banana blossoms in. It is to prevent discoloring and remove acidic taste. The recipe below is based on the memories of my grandma´s dish.
Ingredients (serves 4 as appetizer)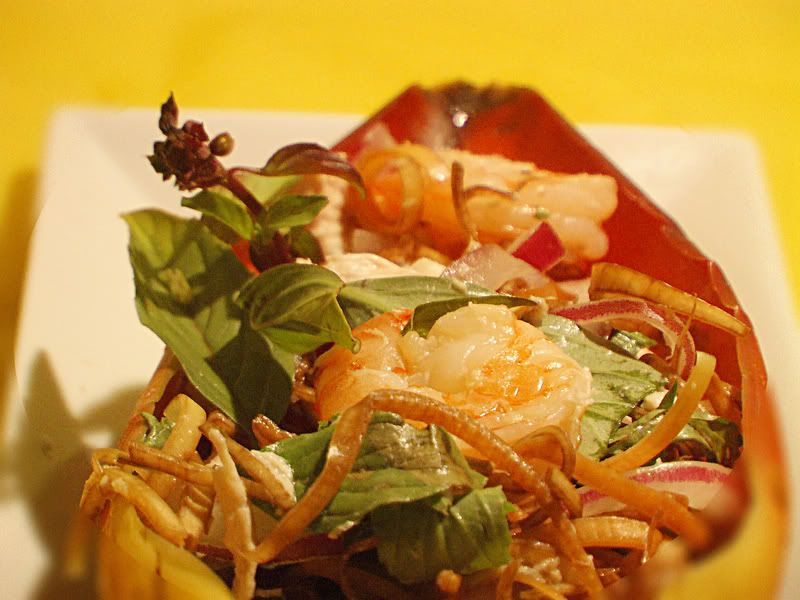 1 banana blossom

1 purple onions, peeled and thinly sliced

1 red chili, thinly sliced (remove the seeds for less spicy dish)

One small bunch of Thai Basil

About 1/2-1 tablespoon of Vietnamese Mint (laksa leaves) – add more if you like

Some cooked chicken/pork, shredded

Some cooked prawns

The dressing: mix together

40ml fish sauce

¼ cup castor sugar

1/6 cup white rice vinegar

Preparation
To prepare the banana blossom, remove the outer darker leaves and reserve for decorations. Continue this until you see the "younger" pale leaves. Continue to peel off these leaves, discard the stamens and place the leaves in the lemon juice water. Rinse all the leaves, thinly slice then put them in the second bowl of acidulated water for 5-10 mins to remove the acidity taste.

Meanwhile, prepare the dressing.

Place onions, chili, banana blossoms, chicken and prawns in a large bowl. Toss through the dressing and leave for a while. Adjust the flavor of the dressing if desired.

Prior to serving, toss through the herbs then serve in the dark banana "boat" if desired.
Note:

Crunchy crushed peanuts can be added just prior to serving.

For a substantial dish, toss through some cooked and rinsed glass noodles.

The dressing can vary in tastes depending which type of fish sauce is used. I normally use the premium product from Vietnam which is sweeter and less salty than the common Thai fish sauce. Taste your dressing to get the flavor to your liking.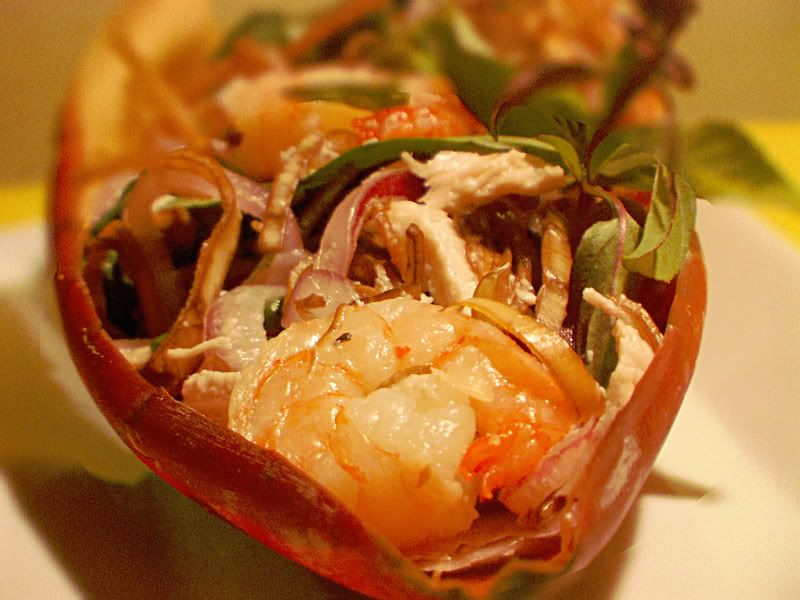 This post forms part of my entry for Holiday Cooking with Herbs, hosted by the gracious Kalyn. You have now until Dec 23 to participate in this wonderful event. Remember also to check Kalyn´s blog for lots of fantastic holiday cooking ideas on December 23rd.

Tag:
Vietnamese Food
recipes
food blog
food and drink
Holiday Cooking with Herbs
salad