Before I begin, let us face the fact that not all of us are going to have a white Christmas or New Year. And have you ever noticed that traditional Xmas food - roast meat & steamed plum pudding etc – are winter dishes? While they are utterly delicious, preparing and eating them in the high heat of Melbourne summer is a real hard task. I remember the temperature reached 40 deg Celsius last New Years Eve. With such weather, we just have to forget the oven and the roast until our winter in July and prepare something else for the current festive season. And the choice I bet a lot of us make is to have a BBQ outdoor in the vibrant sunshine… I think it is a perfect choice given that the temperature is not too high for a BBQ.
The dish I am blogging about is perfect for a BBQ. The capsicum sauce, which goes well with any BBQ meat, sausages or seafood, can be prepared before hand. The tuna steak does not take long to cook on the griddle. I know fresh tuna steak is expensive but its flavour is superb. Grilled fish is a healthy choice, too, so you really get a lot of benefits. I have written down my experience on choosing and cooking fresh tuna below for your reference.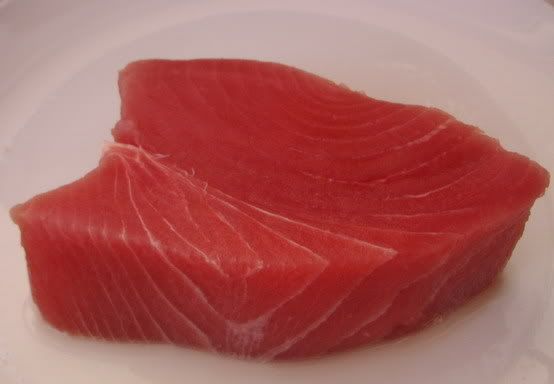 How should you choose fresh tuna steak?
Trust me; the best way is to have a good relationship with your fishmongers. They can help you choose the best steak. But as a general rule of thumb, choose the steak with pink and firm flesh. Avoid those with strong fishy smell.
How to cook tuna steak?
First rule: buy the steak the day you intend to cook it. You can also leave it in the fridge overnight and cook the next day but do not freeze the steak. I did it once and the tuna became as hard as rock even though I did not overcook it.
Second rule: do not cover cook or the tuna will be come tough. The steak is just to be seared outside and the inside should be raw. Depends on your preference, you can cook it a bit longer but take care not to overcook. The best way to test is to cut one piece in the middle to try out.
***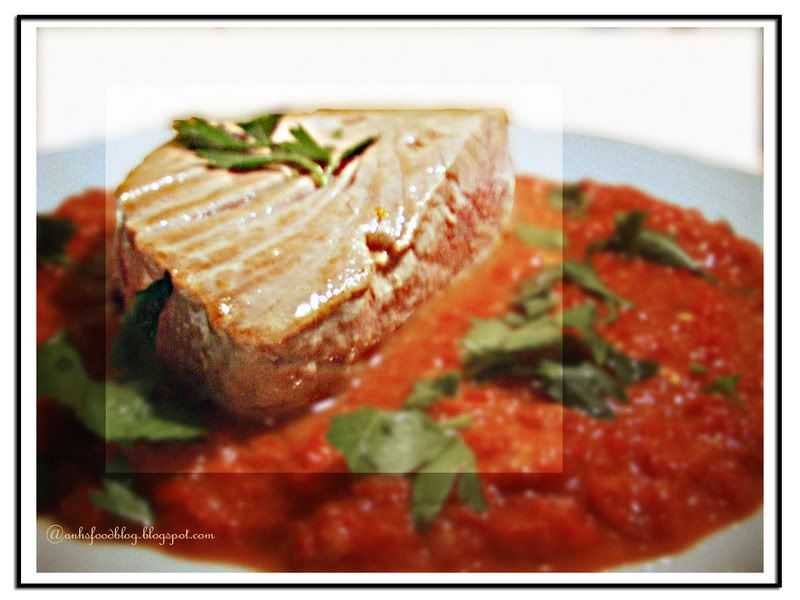 Below is my favourite way of cooking tuna steak – briefly sear it then served on bed of sweet roasted capsicum sauce. This is a Moroccan dish called Hout Bil Felfla, which I got the recipe from Arabesque by Claudia Roden. I love to enjoy this with the grated cucumber and mint salad. Together, they make beautiful and enjoyable main course in the heat of summer!
Seared Tuna Steak with Roasted Capsicum Sauce
Ingredients (for 4 serves)
3 tablespoons of olive oil
4 thick tuna steak
Salt
Small bunch of flat-leaf parsley, chopped
For the sauce
4 fresh red capsicum
2 garlic cloves, unskinned
3 tablespoons of red or white wine vinegar
3 tablespoons of extra virgin olive oil
Directions

For the sauce:
1. Roast the capsicum and garlic in the hottest oven for about 30 mins. Take the garlic out when it feels soft. Take the capsicum out when their skins are black. To loosen their skin further, put the roasted capsicum into a freezer bag, twist to shut and leave for 10 mins. When cooled, peel them and remove stem and seeds. Peel the roasted garlic cloves.
2. Blend the roasted capsicum and garlic in a food processor with the rest of the sauce ingredients.
For the tuna:
Heat oil in a large non-stick pan (or rub the oil all over the tuna). Cook or grill over high heat for less than 1 min each side (depends on the thickness of your steak). Sprinkle lightly with salt. To test, cut into steak with a sharp knife. The flesh should be soft and pink in the middle.
Serve the tuna on top of the sauce. Sprinkle with chopped parsley.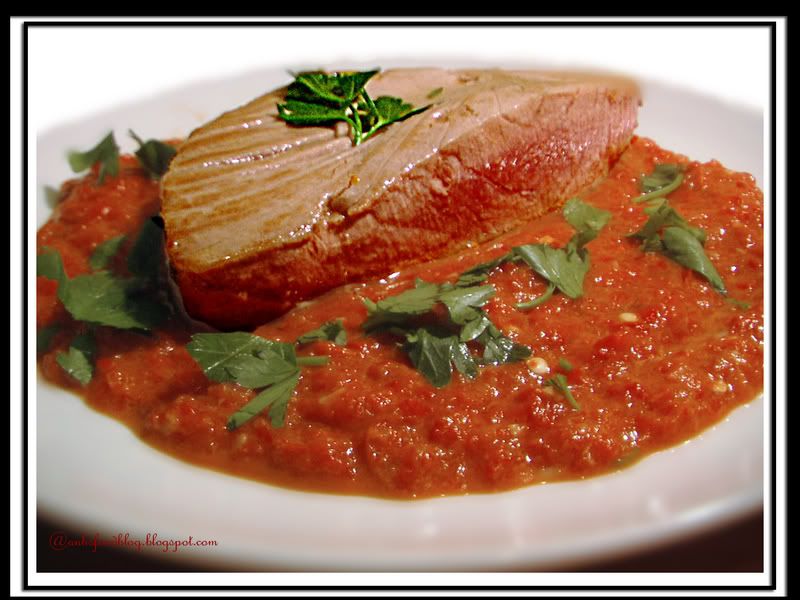 ***

This post forms part of my entry for Holiday Cooking with Herbs, hosted by the gracious Kalyn. The herbs & vegies featured here are: capsicum, garlic & parsley.

You have now until Dec 23 to participate in this wonderful event. Remember also to check Kalyn's blog for lots of fantastic holiday cooking ideas on December 23rd.

Tag:

recipes food blog food and drink Holiday Cooking with Herbs