Every year my supervisor gathers all of research his students and their partners for a small Christmas party. It is a very warmy gathering where his beautiful wife feeds us with delicious vegetarian food… I have attended no less than 3 parties now, and she has yet repeated one single dish! But the meaning of the party goes beyond food. After dinner we normally sit down, eat desserts and discuss about the year that is ending soon. We share the struggles, success, failures and all those emotional moments that we have experienced throughout the year. The party is not simply an occasion to celebrate, but also to share, to give and to get closer with each other.
Yesterday we had an early Christmas party since some of us are leaving for holiday soon. And in those moments of sharing, my friend, a mature and smart Indian man, talked about how much he missed his hometown lately. It was a kind of homesickness that he had never felt before… This is something I can relate. Having living by myself overseas since the age of 17, I have experienced those moments when all I wanted to do was to go home…. The homesickness is actually stronger now with Christmas and New Year coming. After all, these occasions are for family gathering, aren´t they?
Experiencing the waves of homesickness, I cooked up several Vietnamese dishes to "make myself home" in Aus. One of them is this Crispy Fried Anchovies, my family fav. However, we did not eat it often since anchovies were not readily available in Northern Vietnam. That was why whenever we travelled to the central or southern part of the country, the first thing my dad and I ordered was this Recently the frozen anchovies are sold in Hanoi and even in Melbourne.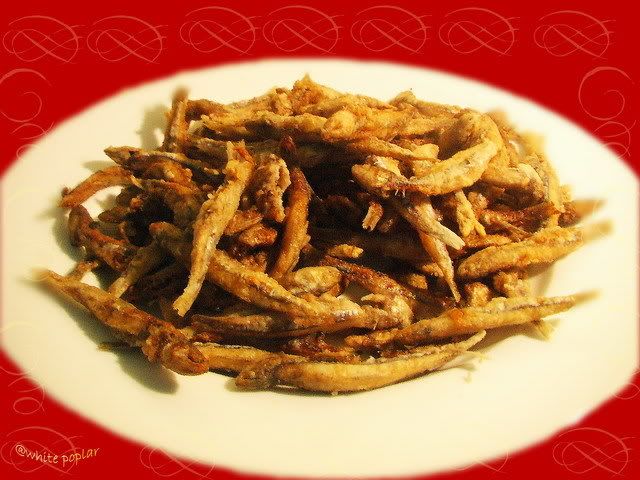 There is no secret in cooking this. Simply marinade the fish with salt, chilli powder and ground white pepper for a while. Coat the fish evenly with tapioca flour (or corn flour) and shake off any excess. Deep-fry in hot oil till golden and crunchy. That is all for a simple and comfy dish from home….
Tag: recipes Vietnamese Food