>> Sunday, December 10, 2006
The theme of my post for this week WHB is HOPE. The inspiration comes from the special blogging event called Menu for Hope III, which is to raise funds for the United Nations World Food Programme. The event is to contribute a little to solve the problem of our modern world – there are people starving somewhere even though global agriculture output is on the rise…
I choose orange as my featured fruit with the idea of hope in mind. Orange is the name of a lovely citrus and also the name of a gorgeous colour. As a fruit, the orange slice represents beautifully the vibrant colour and shape of the rising sun. As a colour, orange carries the "energy of red and happiness of yellow". It is the symbol for harvest, healthy food, strength, endurance and vitality (See Wikipedia). With such meanings, orange, for me, is the color and also the fruit of hope…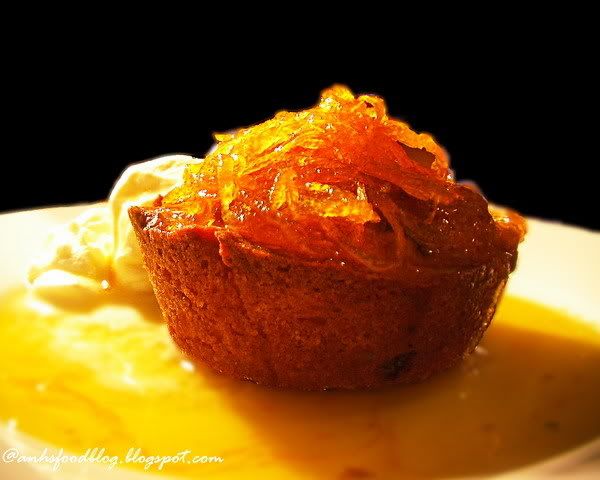 Of course the choice of making the little Orange and Date Cake is a variation of the main theme. The recipe comes straight from the latest book by Donna Hay, Instant Entertaining, which is my donation for Menu for Hope III. Details on how you can "buy" the book will be posted shorly. The cake is very "Donna Hay's style" – easy yet delicious. The light cake is served with warm orange syrup and little whipped cream. A nice final touch for a complete meal…
Finally, if you notice my photo for this post also follows the theme of Hope. It is because:
"Hope is like a bird that senses dawn and carefully starts to sing while it is still dark."
(Unknown author)
DATE & ALMOND CAKE WITH ORANGE SYRUP
Recipe is from Donna Hay's Instant Entertaining. My modifications are in red and italic.
Ingredients (makes 4 muffin-size cakes):
½ cup plain flour
¾ cup ground almond
½ tsp baking powder
½ cup castor sugar
½ cup roughly chopped dates (I soaked the dates in brewed tea to reduce the sweetness)
75g butter, melted
2 tbsp milk (I used buttermilk)
1 egg
Orange syrup:
½ cup orange juice
½ cup castor sugar
2 tablespoon grated orange rind
Directions
Preheat oven to 160C. Place flour, almond meal, baking powder, sugar and dates in a bowl and mix to combine.

Add butter and milk and egg. Mix to combine, Spoon mixture into greased muffin cases (1 cup capacity). Bake for 25 mins or until cooked when tested.

Meanwhile, make the syrup: Place sugar, orange juice and rind in a sauce pan and stir over low heat until sugar has dissolved. Simmer for 5-7 mins or until slightly thickened. Spoon warm syrup over warm cake and serve with double cream.
*
This week WHB is hosted by Pookah of What's Cooking in Carolina. Pls check out her website for the round-up.
Tag:
WHB
Recipes
Weekend Herb Blogging
donna hay
menu for hope