>> Thursday, January 04, 2007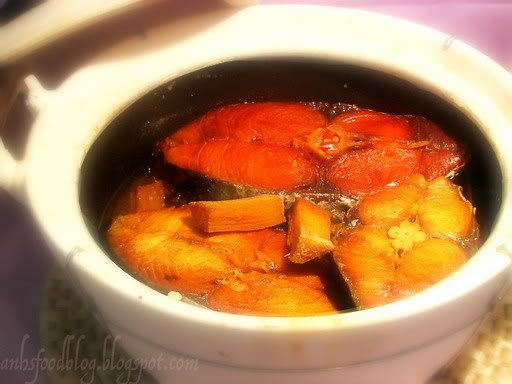 Firstly, it is so so so hot in Melbourne now! The temperature has reached over 30 degree Celsius high over the past few days. Like everyone here I am trying hard to cope – stay cool, drink a lot of water, eat more fruits, change my jogging schedule to early morning. All is to avoid the heat!
Secondly, I did intend to write about my favourite braised duck for this month edition of Weekend Cookbook Challenge. Hosted by Shaun of Winter Skies, Kitchen Aglow, the main theme, Stew, is perfect for the cold season of the northern hemisphere. The heat here, however, has made me reluctant to imagine and write about a winter dish. Instead, I would like to mention my favourite stew dish for all seasons – Vietnamese Fish Braised in Caramel Sauce.
I admit eating this dish once in every two weeks or so. Like I have written previously, it is so common in Vietnamese kitchen that almost everybody can cook it without a specified recipe. There are so many versions, too. You can basically use whatever fish available and some basic ingredients on hand. Chilli, ginger and a lot of white pepper are essential. The rest is completely optional and up to your tastebud – galangal, lemongrass, coconut juice etc.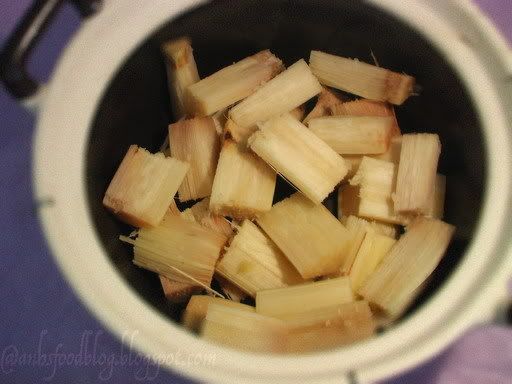 The one featured in this post is a truly delicious version of the classic dish. I have added some chopped fresh sugarcane and cooked the fish in a clay pot. The sugarcane gives a delightful sweetness which suits the warmer weather. Furthermore, cooking and serving in a clay pot keeps the fish warmer longer on the table (I don't like to eat my fish cold!)… Note that I used Spanish Mackerel cutlets (frozen is fine). Since this fish tends to dry out quickly, I briefly fried them in a little oil before braising.

The recipe with some common variations can be found here. I have shared this recipe around for several friends, and they all like it. Be warned! You will potentially eat extra rice with this since the sauce is simply marvellous!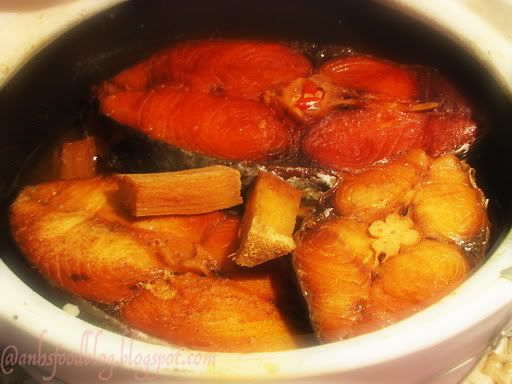 Tag: recipes food blog food and drink Asia Southeast Asia Vietnam Vietnamese Food Vietnamese Cuisine fish seafood