>> Saturday, January 06, 2007
Weekend Herb Blogging is back after one week holiday. For the first WHB of 2007, I would like to write a little about my most loved dish in the whole wide world (and I'm really not boasting!!!) – PHO BO or Vietnamese Beef Noodles in Broth.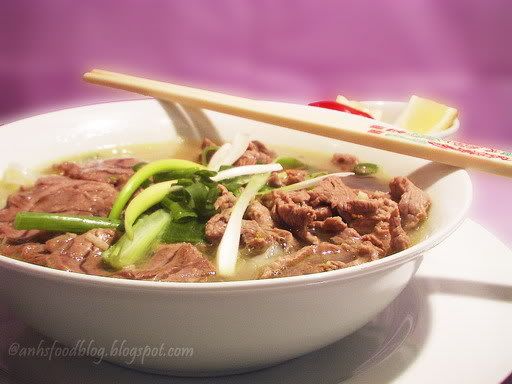 Pho is perhaps the most well-known Vietnamese dish. Originated from Nam Dinh, a small city in Northern Vietnam, but it is in Hanoi that the art of pho has been perfected. I have eaten pho in different areas of Vietnam and overseas, and trust me; the only place where you can truly savour the best pho is in Hanoi. The few best pho restaurants have their family secret recipes that make them stand out. Not all pho restaurants in Hanoi are good, but the good ones there are world best.
The type of pho that are popular here in Australia is more of southern Vietnamese version. I love southern food but I cannot stand the way all the ingredients, especially herbs, is over-mixed and overused. Firstly, the broth should not be be made from the mixture of beef, chicken and pork – there should be one single type of meat used to concentrate the taste. Secondly, table salad of herbs (mint, bean sprouts etc.) is not supposed to be eaten with pho. The reasons are simple. Pho should be eaten hot to be flavorsome – dipping cold herbs will make your soup cold. Herbs normally accompany seafood style of noodle soup to tone down the smell, not here when the broth has already contained enough herbs and spices… I am very picky when it comes to pho, almost too picky sometimes ;)
I crave for Pho from time to time here in Australia. But cooking it isn't easy. It is hard to get the flavour right. After several not-so-good results, I finally get what I want – A bowl of Pho that suits my taste. Of course it cannot be compared to the glorious version in Hanoi, but it is good enough to satisfy my craving. My flatmate, who has tasted Pho in Hanoi, gave a thumb up!
For those who are interested in the recipe, I have posted the recipe separately since it is quite long. For now, I just want to point out a few herbs that when combined make the beautiful noodle broth – shallots, ginger, garlic, green onions (or spring onions) and believe it or not, coriander roots! Herbs (and spices) are beautiful and elegant… And how to correctly use and combine herbs and spices together is truly a culinary art!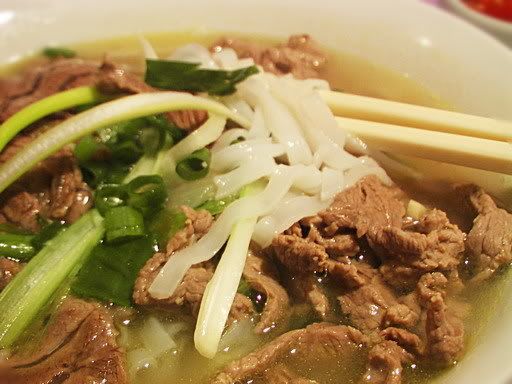 ***

This post is my entry for Weekend Herb Blogging, hosted by the Kalyn. Please check out her blog for the round-up.