>> Friday, January 26, 2007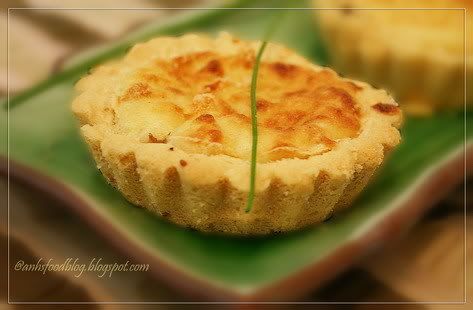 Yes, continuing from last post I am writing about tarts again. This time is a savory type though, so I think it should be quite different!
The theme of Hay Hay is Donna Hay #9 hosted by Running With Tweezers is soufflé. This is an excellent theme in deed since I am always attracted to the lightness and fluffy of soufflé. Cooking them is another interesting challenge. It requires skills and patience. The most exciting part is to see the soufflés puff up just out of the oven then "fall" down after a while. All we need to do is eating them as quick as possible to savour the soft and sponge-like texture.
I love eating all types of soufflé – sweet or savoury. But for this event, I wanted to challenge myself with something different, something more exciting to make and of course to eat. Having said that it had to be easy to make since simple cooking is what Donna Hay is all about! Thus, the cheese soufflé tartlets were born! The idea was not mine but from this excellent book by Jennifer Paterson and Clarissa Dickson Wright. I do not have any moment of regret making these! They were so delightful to eat, especially straight out of the oven. The hot and light soufflé was combined with the rich crust and a little softened onion… Comfort food at its best!
I still have one confession to make. I was more enthusiastic eating those little tartlets than taking the photos for this blog. The photos were taken in a hurry so they did not turn out so well, and you couldn't see the rising moments of the soufflé filling. Hm... All is for the love of eating!
CHEESE SOUFFLÉ TARTLETS
Adapted from recipe by Jennifer Paterson. Remember to use eggs at room temperature.
Ingredients (for 24 tartlets, using false-bottom 5.5 cm tartlet tins)
For the pastry case
225g self-rising flour
55g ghee (original recipe uses lard)
55g butter
A pinch of salt

For the soufflé filling
1 medium onion, finely chopped (food processor is good for this)
25g butter
25g plain flour
150ml milk
Salt and pepper
2 eggs, separated
115g sharp cheddar cheese, grated
Method
Pastry case: sift flour & salt and rub in ghee and butter. Press into a dough (add some iced water to bind if needed). Press into tartlet moulds. Put in the fridge until required.

Pre-heat oven to 200C/400F.

Fry the onion in little oil till softened. Set aside

Filling: Melt butter over low heat, add flour and cook for a minute or two, stirring constantly. Add milk slowly, keep on stirring. Cook over low heat for 3 mins, season well. Allow mixture to cool slightly before adding the egg yolk and grated cheese.

Whisk egg whites until stiff then gently fold in the cheese mixture.

Divide onion mixture among pastry cases. Cover each with a spoonful of soufflé mixture.

Bake for about 15-20 mins.

Serve IMMEDIATELY!
Tag:
donna hay
Hay Hay Its Donna Day
,
soufflé
,
tartlet