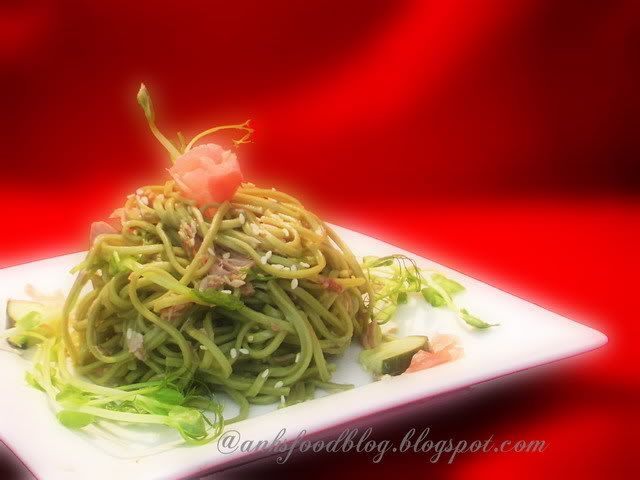 I think I have complained a lot, but this year summer has been hot, hot, hot!!! According to the news, we will have two continuous days of 39C (~100F) next week! Oh my….! However, rather complaining about the weather, I am trying to enjoy the heat. After all, it is summer! With the theme of summer in mind, my entry for this week Weekend Herb Blogging will feature snow pea sprouts, my favorite ingredient for summer salad.
Sprouts are germinated edible seeds such as beans, nuts or grains. They are high in vitamins and minerals. According to this link, during WWII when there was meat shortage in the US, it was advised that sprouts were a cheap and effective alternative to proteins found in common meat. Furthermore, sprouts contain very high level of active antioxidants which are known to prevent DNA destructions and slow down the aging process. With these reasons, we really should use more sprouts in our daily diet! There are various types of sprouts available, which you can have a look here. I am personally more familiar with mung bean sprouts since they are used quite extensively in Asian cooking. Nevertheless, I have been trying other varieties lately and really enjoy them.
Generally, sprouts lose their nutrients during cooking process so it is best to eat them fresh. Some firmer types (like mung bean sprouts) can be stir-fried briefly or added to clear broth just before serving.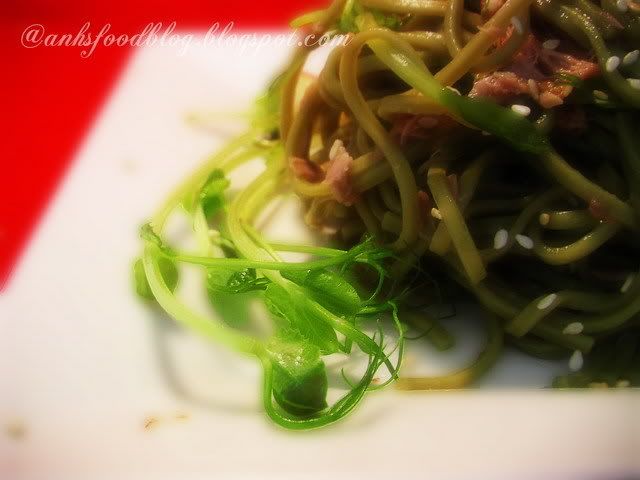 I love to enjoy the light and refreshing tastes of sprouts in my summer salad. In a recent "experiment", I combined green tea soba, snow pea sprouts and a couple of other ingredients for a Japanese-inspired noodle salad. At the time, I lost my appetite due to the heat and wanted something light to eat. Luckily the result was something revitalizing and enjoyable. Since then, it has been the dish I live on to "fight" the summer heat!
Japanese-inspired Green Tea Soba Noodle Salad
Ingredients (for 4 serves)
200g dried green tea soba (cha soba)
185g or more canned tuna in spring water
1 large handful of snow pea sprouts, trimmed
½ Lebanese cucumber, sliced into bite size
2 green onions, green parts only, chopped finely
1 tablespoon of roasted sesame seeds
Japanese pickled pink ginger (beni-shoga), to serve
Dressing
80ml vegetable oil
80ml rice vinegar
2 tsp Japanese soya sauce (shoyu)
1-2 tsp sugar
A dash of sesame oil
Directions
Cook noodles as per package directions, set aside.

Combine dressing ingredients in a jar, whisk to dissolve the sugar.

Combine noodles, tuna, snow pea sprouts, cucumber, and green onions in a mixing bowl. Pour the dressing over and toss to combine. Sprinkle with half of the sesame seeds.

Serve with pickled ginger and extra sesame seeds.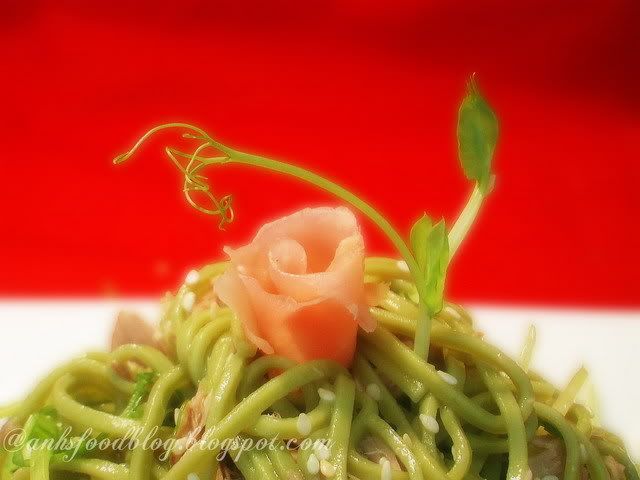 This post is my entry for
Weekend Herb Blogging
, founded by
Kalyn
. This week the event is hosted by
Coffeepot from Coffee and Cornbread.

Tag:
recipes
food blog
food and drink
Asia
noodle
Cooking
Weekend Herb Blogging